Trumpeting Their Success
(written by Bill Petersen, Archives staff)
In 1956, West Salem band teacher Curtis Beers was concerned that there was a lack of public interest in band concerts that he and his students were putting on. Someone suggested he get a "guest artist" to draw more people. The guest artist that Beers would land would turn out to be Rafael Mendez, considered one of the greatest trumpet players of all time.
Beers had heard that Mendez made a limited number of appearances with small school bands as a way of promoting music education. With the backing of the West Salem Band Mothers, Beers wrote to the Mendez booking agency, expecting a quick rejection. Much to Beers' amazement, Mendez accepted the invitation.
The concert was held on Monday, March 4, 1957 at the Tilson Memorial auditorium. Mendez arrived on Friday night, rehearsed with the band, had dinner with the Beers family on Saturday, had dinner at Walt's restaurant in La Crosse on Sunday, and was guest of honor at the West Salem Band Mothers' banquet at Maple Grove. At the banquet, Mendez, who was born in Mexico, told the story about how his family's band was "recruited" by Mexican revolutionary Pancho Villa in 1916, and how he became Villa's favorite trumpeter at the age of ten.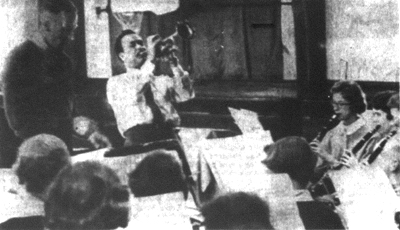 A photo from the front page of the West Salem Journal of March 7, 1957 showing Rafael Mendez rehearsing with members of the West Salem High School Band.
The concert itself was a huge success. Busloads of Mendez fans were brought in from Gays Mills, Cochrane, Elroy and New Lisbon. In all about 1,200 people attended the concert. Mendez and his trumpet put on quite a show and Mendez himself proved an inspiration to the band students with his talent and his teaching ability.
After the concert, Curtis Beers, the man who was told to get a guest artist, just kept saying "Never saw so many people at a band concert."