1937 - New Pumper Tested at Riverside Park
(written by Scott Brouwer, Archives staff)
As I continue to organize, process, and scan a large cache of photographs from the La Crosse Fire Department with the help of other library staff (thanks Lindsay, Maria, Megan, and Dave), I see many compelling pictures every day (see St. Rose Convent Fire of 1923 blog post for more information on this project).  One in particular captured my imagination recently.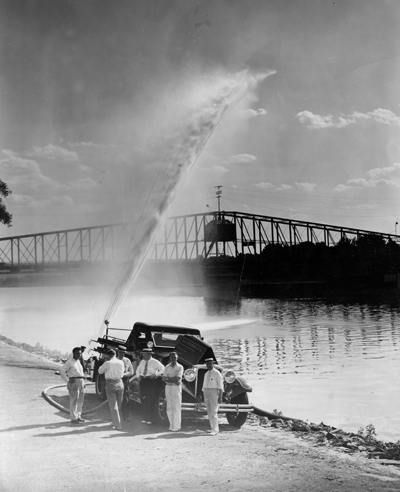 This picture has many interesting things going for it.  On what appears to be a beautiful day in July of 1937, several members of the La Crosse Fire Department tested their new pumper truck at Riverside Park.   Of course, the Mississippi River is there, along with a little bit of an earlier version of Riverside Park waterfront infrastructure.  The men all look dapper in their light summer duds and pork pie hats.  However, two other prominent features deserve a second look.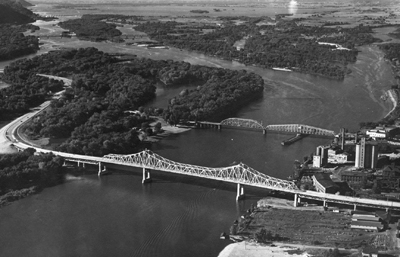 First is the wagon bridge over the Mississippi River.  This bridge predates the current Cass Street Bridge over the Mississippi, which opened in 1940, and was just a few blocks north.  It exited downtown La Crosse from Mt. Vernon St., which no longer exists.  Mt. Vernon St. was only a couple of blocks long and would be found in present day La Crosse underneath the La Crosse Center between Pearl St. and Jay St.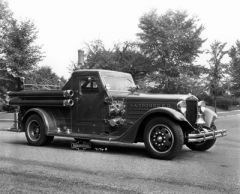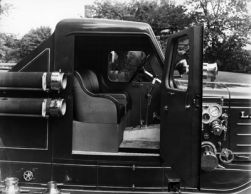 The other prominent feature of the first photograph is the shiny, new pumper truck. Pumping 1,865 gallons of water a minute from the city mains at 120 pounds of pressure, the American-La France pumper was declared by an engineer from the Fire Insurance Rating bureau at Milwaukee to be the largest capacity pumper in the state of Wisconsin at the time.  According to a July 25, 1937 La Crosse Tribune and Leader Press article, the series of tests was conducted by the board of fire underwriters over a three-hour period.  The pumper pumped 1,000 gallons a minute at 160 pounds pressure, 625 gallons a minute at 200 pounds pressure, and 417 gallons at 250 pounds pressure.  This state-of-the-art pumper truck was placed into service at No. 3 station, then located at the corner of 6th St. and Mississippi St.  It replaced the first piece of motorized fire equipment the city ever purchased, pictured below.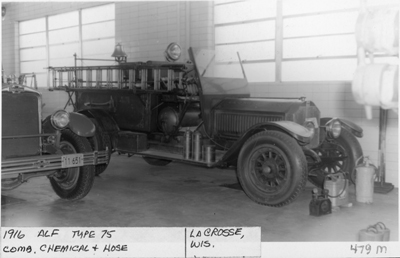 (1916, combination chemical and hose cart)
Next time you are walking through Riverside Park on a warm spring or summer day, try to find this spot and consider all that has changed since July 1937.