The Tillman Bros.: Cabinet Makers, Undertakers, and... Weathermen?
(written by Meghan Hoefling, archives staff)
The building occupying 116 4th Street S in La Crosse has been known as Leithold Music for over 60 years.  In its 130 years of existence, the five-story building has only had two owners: Leithold Music, and the Tillman Bros. Furniture Store.  Founded by William and Friedrich Tillman in 1859, the Tillman Bros company served La Crosse for over a century; making cabinets, operating a mortuary, and reporting weather conditions.
William Tillman was born July 21, 1837 in Marienwerder, Prussia, just north of what we know today as Berlin, Germany.  While in Prussia, he attended school and learned the trade of cabinetmaking.  At age 17, he immigrated to the United States with his wife, Johanna Walter.  He was soon joined by his brother, Friedrich, whose journey across the Atlantic is detailed in a diary, accessible online through UW Madison's library.  The brothers settled in Milwaukee before migrating westward to La Crosse in 1859.  Once in La Crosse, William and Friedrich opened their first Tillman Bros. Furniture shop at 313 Pearl Street.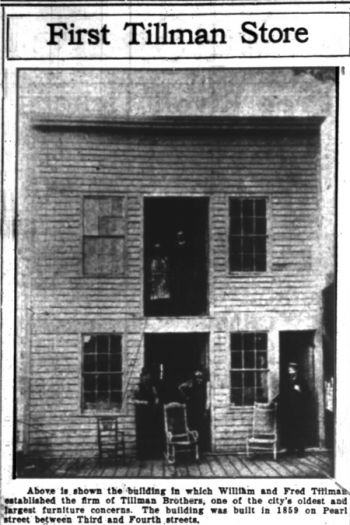 La Crosse Tribune 12 August 1934
William and Friedrich built their furniture by hand on the second floor of their shop on Pearl street.  According to city directories, they were "retail dealers in cabinet, parlor, dining room, hall, library and office furniture."  In 1870, the brothers expanded their business into the world of undertaking.  This was a common venture for carpenters in the late 19th-century, as their skills translated well into casket making.  The mortuary facility was located on 2nd St, between Main and Pearl.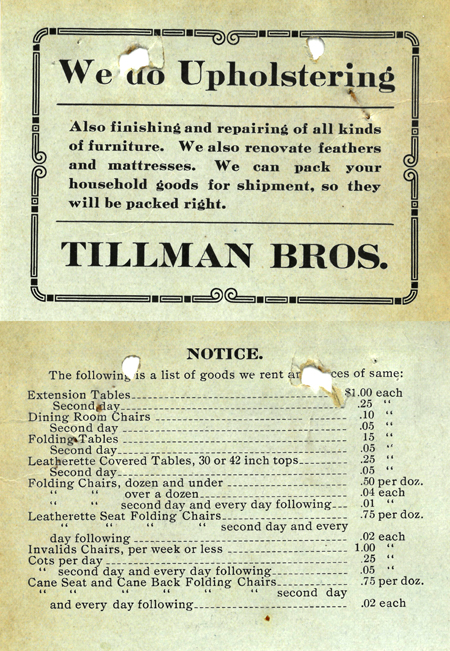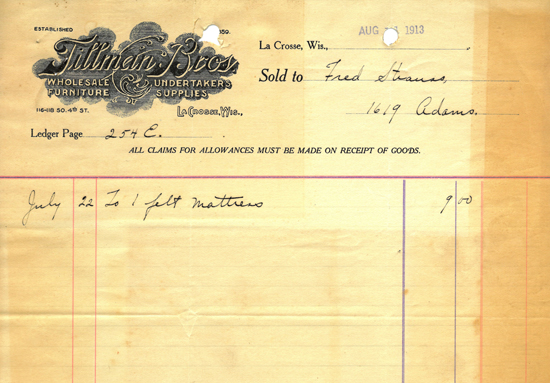 An advertisement and receipt from the Tillman Bros. ca. 1913 from the Friedrich L. Strauss Papers.  
After nearly 30 years in business, Tillman Bros. had established a successful and well-liked furniture business. From The Industries of La Crosse, Wis. 1888:
Messrs. Tillman during their long years of business life have always maintained friendly relations with their customers, and been intimately connected with important business movements of the city.  Their large trade is nothing more than the legitimate result of close and continued application to business.
In 1889, Tillman Bros. purchased a newly constructed building on 4th Street for $28,000.  The building still stands, and is known today as Leithold Music.  Often called 'La Crosse's first skyscraper,' the building is the city's best interpretation of the Romanesque Revival commercial architectural style, known for its round arches.  The five-story structure features a bay window on the second story and a nine-arched clerestory window arcade.  This would be the home of the Tillman Bros. Furniture Store for the next 70 years.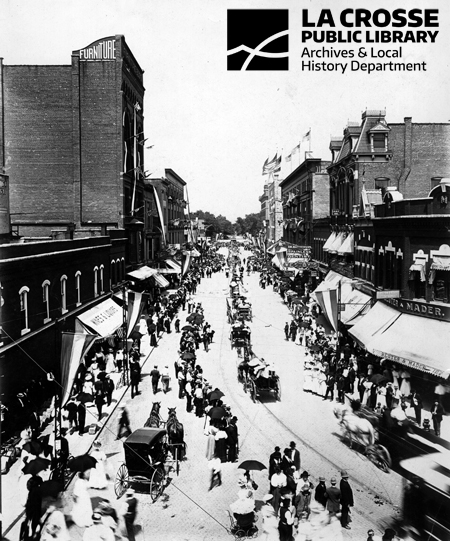 A view of Tillman Bros. Furniture Store (tall building on left) on 4th St S, ca. 1905
Just three years after moving into the new building, Friedrich Tillman died suddenly at age 59.  Friedrich was found unconscious after lifting a heavy potted plant, and died in his home a short time later.  This left William to run the business on his own until his own death in 1900 from dropsy, now known as edema.  William's death, and the beginning of a new century, opened the doors for a new era of Tillman brothers.  Herman and Walter Tillman, the sons of William and Johanna, took over business operations.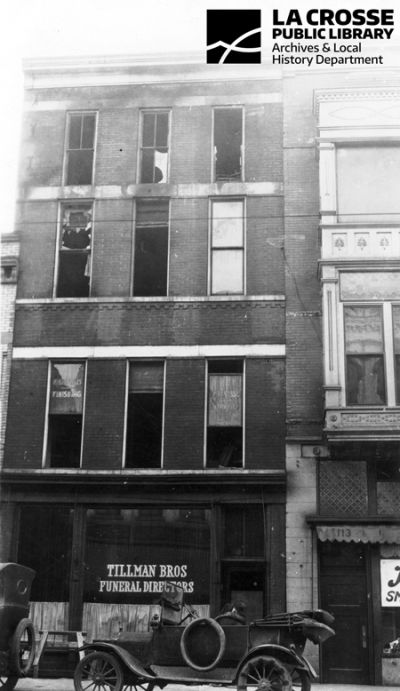 The Tillman Bros. undertaking building at 111 3rd St S after a 1923 fire
The Tillman Bros. company continued its success under Herman and Walter's leadership, and news of their services spread beyond the American Midwest.  In 1905, just 5 years after taking over the company, Tillman Bros. received a contract to furnish 5,000 chairs for workmen's quarters at the site of the Panama Canal construction.  However, Herman and Walter's era was not without struggle.  On November 4, 1923, a fire broke out at the Tillman Bros. undertaking building at 111 3rd St S.  The fire began in a pile of sawdust, excelsior, and rags near the furnace.  The entire rear of the building – from basement to roof – was destroyed, causing $5,000 worth of damage.  The building was rebuilt, and the mortuary remained in operation until 1941.  Two years after the fire, Walter died, leaving Herman Tillman as the sole owner of the Tillman Bros. company.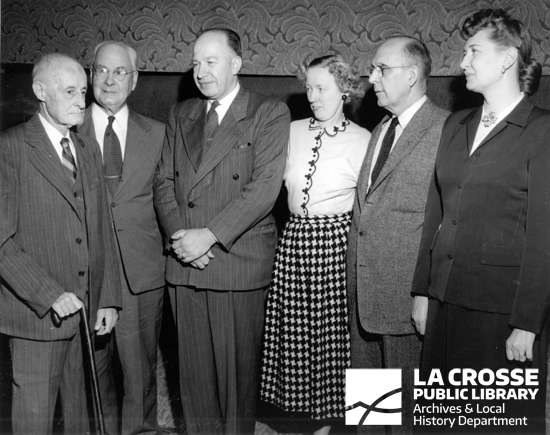 Herman Tillman (far left) stands with five Tillman Bros. employees to recognize their service to the company, ca. 1954. These employees had worked for the company for over 25 years.
Around 1930, the Tillman Bros. Furniture Store on 4th St S became known for more than just their furniture when a weather flag began flying from atop its roof.  The flag's color and symbol informed La Crosse citizens of the next two hours of weather, and many came to rely on it.  A newspaper report claimed that "should the employees be late in hoisting the signal, calls by the dozen are received at the office."  The flags were flown daily until World War II, when government regulations prohibited their use.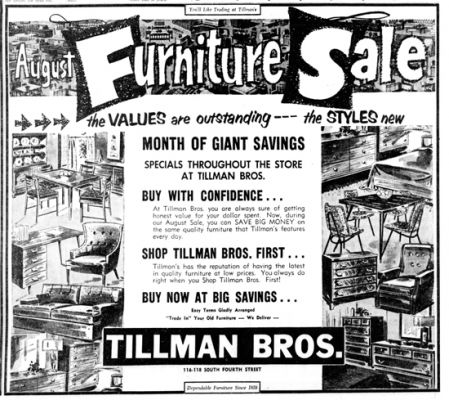 Tillman Bros. advertisement, from La Crosse Tribune 31 July 1957
After Herman Tillman's death 1955, he left the company to seven employees, who formed a corporation and carried on business as usual.  The business celebrated its 100-year anniversary in 1959.  After 103 years of operation, Frank W. Tillman, president of the corporation and great nephew of William Tillman, announced that the business would close, and the building would be sold.  In 1962, ownership of the building at 116 4th St S was transferred to Leithold Music, the building's present owner.