Presidential Visits: William Howard Taft in 1909
(written by Scott Brouwer, Archives staff)
Unlike President Cleveland's visit in 1887 and President Roosevelt's visit in 1903, President William Howard Taft's visit on September 17, 1909 had a local connection and a specific purpose – his Yale classmate and La Crosse civic leader George W. Burton invited him here to dedicate the city's new YMCA building at 7th and Main Streets.
La Crosse Daily Chronicle 18 Sept 1909 (click for full page)
After spending 40 days on vacation on Massachusetts Bay, President Taft embarked on a nearly 14,000 mile train journey around the country that took him through 33 states.  His train arrived at 5:45pm at the Milwaukee Road downtown passenger depot at the Cameron House Hotel, on the SW corner of Vine and 2nd Streets.  A procession of 8 automobiles, owned by some of the most prominent men in La Crosse such as Frank Hixon, Lucian Easton, W. W. Cargill, and Harry Colman, was lined up ready to take Taft, his security detail, and local dignitaries to the YMCA building.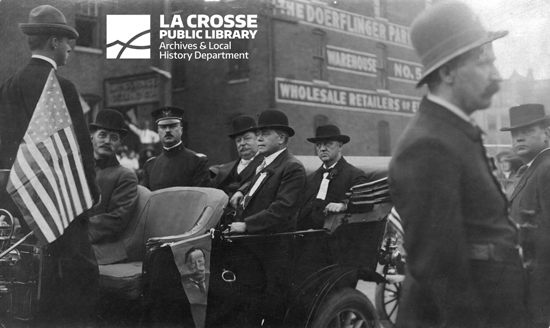 President Taft in Frank P. Hixon's automobile; seated from left - Frank P. Hixon, Captain A. W. Butt (military aid to the President), President William Howard Taft, George W. Burton, Mayor Ori Sorensen
The procession stopped on Main Street between 6th and 7th Streets, and President Taft entered the new $100,000 building via its Main Street entrance.  He signed his name to the registry, honorarily the first one written there.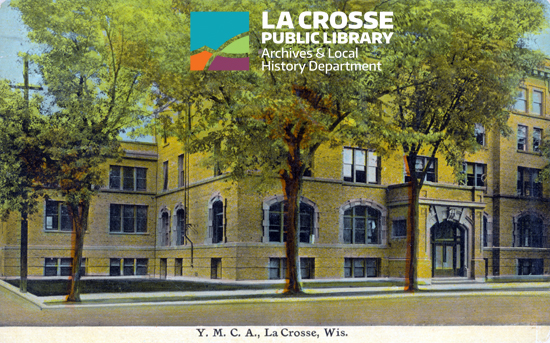 Postcard, ca. 1911
He sat for a photo with several dignitaries including Burton, Cargill, Congressman James A. Tawney, and Congressman John J. Esch.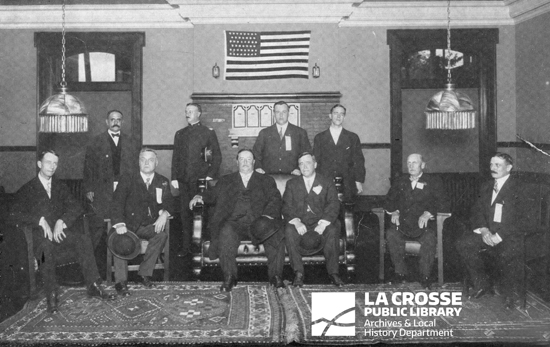 Group photo taken inside YMCA; from left - F. G. Tiffany, Congressman (MN) James A. Tawney, Congressman (WI) John J. Esch, Captain A. W. Butt (military aid to the President), President William Howard Taft,  YMCA secretary Abner C. Gran, George W. Burton, John Holley Jr., W. W. Cargill, and F. H. Schofield.
The speaking platform was set up on the 7th Street side of the building, facing Burns Park.  Reports say between 13,000 and 15,000 people were within viewing/hearing distance of the platform on all sides stretching north and south on 7th Street and in Burns Park.  Seated on the platform were over 100 leading citizens of La Crosse and surrounding villages and towns.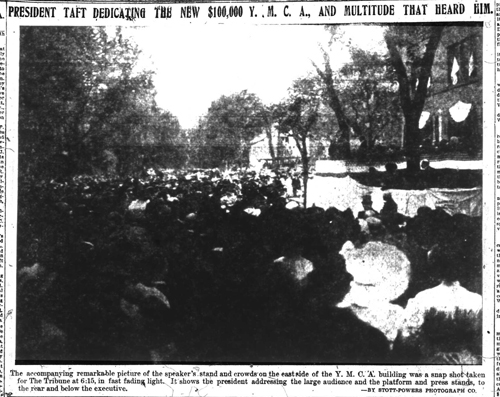 La Crosse Tribune photo, 18 Sept 1909, of the speaking platform on the 100 block of 7th Street N., crowd facing the YMCA building with Burns Park behind them.
It was reported in the newspapers a "big arm chair" or "loveseat" was reserved for President Taft, as the reporters never failed to take an opportunity to note his large size.  After an introduction by his friend and Yale classmate, George Burton, Taft gave a speech celebrating the achievements of the YMCA throughout the United States and encouraging the wealthy of La Crosse to financially support it.   While the speeches on the rest of the trip would be political in nature, Taft kept his remarks in La Crosse focused on the matter at hand. 
After the speech, Taft and company re-entered the automobiles and processed east on Main Street all the way to 16th Street, taking a moment to acknowledge George Burton's wife, Belle, on their doorstep at 1428 Main Street.  The procession headed south on 16th, then turned west on Cass Street and headed back downtown to his waiting train.  It was reported that Taft noted the view of Grandad Bluff from Main Street, the new high school building at 16th and Cass (now Weigent Park), and the many magnificent homes on 16th Street including those of Charles and Louise Michel (1431 Cass), Nymphus and Jessie Holway (1419 Cass), Joseph and Irene Hixon (1326 Cass), and W.W. and Mary Cargill (235 West Ave. S., now the site of First Presbyterian Church).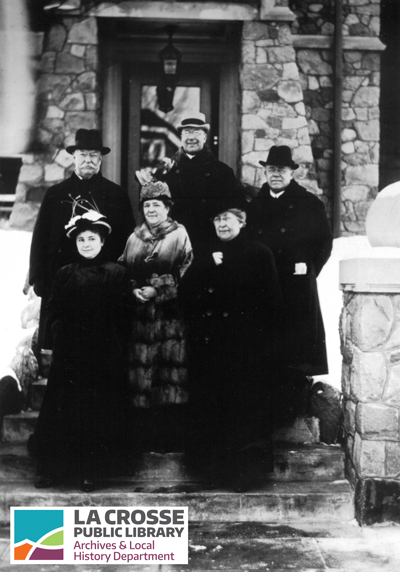 President Taft (left) on the steps of George Burton's home at 1428 Main St., 20 December 1915.
Taft returned to La Crosse in 1915 when he was no longer president, staying overnight at Burton's Main Street home.  Among other brief speaking engagements and ceremonies, he was hosted by the Manufacturers and Jobbers Club at a dinner in the Stoddard Hotel, with Burton serving as toastmaster. 
The YMCA building on the NW corner of 7th and Main Streets dedicated by President Taft now serves as the Administrative Center of Western Technical College.