La Crosse Company Started Out Making Rubber Horseshoe Covers
(written by Megan of the Archives Staff)
On December 28, 1896, a group of La Crosse businessmen met to form a company to produce rubber goods such as carriage covers, coats, suits, and horseshoe covers. Horses pulling vehicles could slip on wet slippery streets and rubber horseshoe covers helped prevent accidents. A large plant, formerly occupied by the National Cooperage Company (barrel-makers) located in the Indian Hill area of La Crosse was secured and on April 15, 1897 the La Crosse Rubber Mills opened their doors. They were soon making Mackintoshes (rubber coats) under the Indian Hill brand name.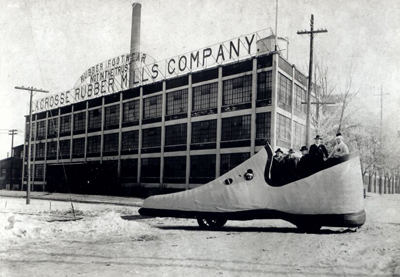 (Soon they were focusing on footwear and by 1908 the were producing 1500 pairs of rubbers, overshoes and rubber boots a day)

Through the years buildings were added and rebuilt at the Indian Hill location as production increased and employees were added.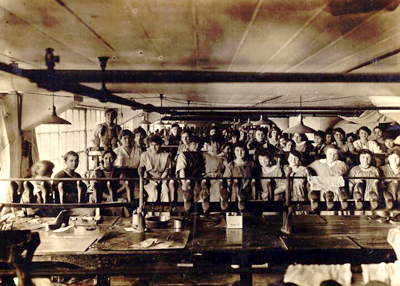 (Women factory workers)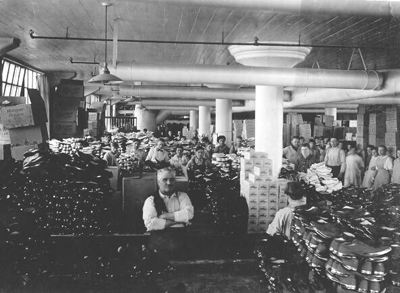 (Workers packing and shipping shoes)
After years of successful growth (and more than a few strikes over the years) La Crosse Rubber Mills was caught in changing economic times. In 1982 the firm was sold to local investors after turning down a possible sale to a New York based shoe company. In 1986 the name was changed to LaCrosse Footwear to reflect the rubber and vinyl protective footwear for dress, industrial and sporting use that the company was manufacturing. Unfortunately by the late 1990's financial problems and layoffs caught up with the company and on June 29, 2001, the LaCrosse Footwear manufacturing plant closed down as most production moved overseas. Some production, and the company headquarters, moved to Portland, Oregon, where LaCrosse Footwear had a division. The company was sold to a Japanese firm in 2012.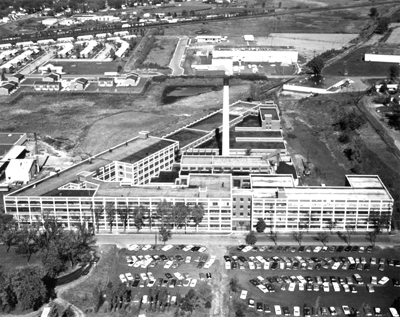 The historic factory buildings, shown in 1975, are the home of other businesses including the Pearl Street Brewery, the Boot Hill Pub, a printing and mailing service, and other offices.