Frohsinn Singing Society
(written by Hannah L. Weber, Archives intern)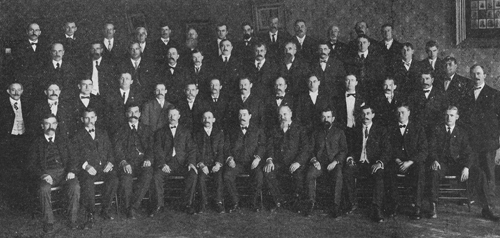 Frohsinn Singing Society, 1907; Nord Stern 50th Anniversary special issue, p. 77
As citizens of La Crosse, Wisconsin, we are not strangers to our German heritage and history; this September marks the 56th year of our annual Oktoberfest Celebration—a testament to our enthusiasm in celebrating our Germanic roots. And yet, 56 years only brings us back to 1960, a point relatively late in our city's history, or 100 years after the influx of German immigrants began to settle the Coulee Region. For a city boasting its profound German heritage, where are the celebrations and ties to not only the first days our ancestors settled Wisconsin, but also back to Germany itself?
 After two consecutive wars against Germany, the second ending only 71 years ago, we have seen a lot of our local German heritage wane. A great effort emerged out of the First World War to tear up our German roots and on top of them plant the seeds of a more ethnically "American" nation. So we took our German culture and stored it away; some things changed only momentarily, such as renaming sauerkraut "liberty cabbage," but others became permanent changes, such as changing the name of Berlin Street in North La Crosse to Liberty Street. In La Crosse we also let go of our German-language newspaper and disbanded some of our German heritage societies and celebrations, feeling that we had to let go of everything and never look back.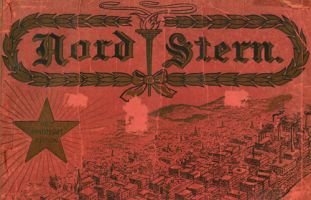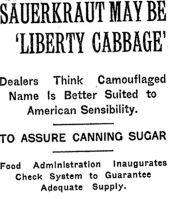 Nord Stern 50th anniversary edition masthead             New York Times, 25 April 1917                
And yet, through much of the scrutiny and cultural pressure placed on German-Americans in Wisconsin during the First and Second World Wars, the Frohsinn Singing Society, a German-American singing group in La Crosse, still met and raised their voices on high.
The Frohsinn Singing Society, or Versammlung Frohsinn, as the society called themselves, was founded Jan. 12, 1885, making them the oldest German singing society in La Crosse. The Frohsinn Society was unique in its traditions in that it operated solely in German, conducting all meetings and keeping all of its minutes and financial records in German. Frohsinn initially began as a literary society which aimed at providing a means for German-Americans and recent immigrants from Germany to discuss current affairs, to share in their nostalgia of Germany, and to create a societal sphere for the German culture in La Crosse. However, the group soon found that song enabled them to celebrate their German heritage in a manner which not only themselves, but others who listened, could enjoy.
Frohsinn, along with other German singing societies in the La Crosse area, often participated in concerts and annual regional singing festivals hosted throughout Wisconsin by the Nord Wisconsin Sängerbezirk, and the tri-state region of Minnesota, Iowa, and Wisconsin, known as the Sängerbundes des Nord-Westens. The Frohsinn society hosted a number of these festivals, the most notable being in 1908 when La Crosse and Frohsinn hosted the largest gathering in the festival's history.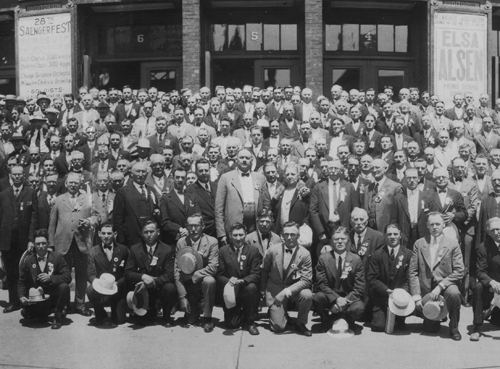 Frohsinn Singing Society at the 28th Saengerfest
During World War I (1914-1918), these festivals as well as participation in the Frohsinn Society had a momentary lapse in participation; however, after the war the festivals and Frohsinn both regained strength. Before the First World War, the Frohsinn Society sang traditional German folksongs such as "Die drei Röselein" or "An der schönen blauen Donau", after the war, they also began to include American folksongs. Soon songs like "My Old Kentucky Home" and "My Country, 'Tis of Thee" became regular repertoire alongside German counterparts, creating a celebration of not only the society's deep German roots, but also the roots recently planted on American soil.  
After 1960, when La Crosse's German-American Oktoberfest celebration began, the Frohsinn Society began to lose steam. Traditionally, the Frohsinn Society's popularity thrived on recent German immigrants and those who kept the German culture and language close to heart. As immigration from Germany dwindled into the 20th century and the people who called the cities and towns across the Atlantic their homeland aged, Frohsinn began to decline.
For the generations before 1960, the Frohsinn Society was the epitome of German-American culture. After 1960, the Americans of German descent chose to celebrate their culture in another way—with Oktoberfest. 1960 was the first year in which no annual German singing festival was held or attended by the Frohsinn Society, and one could say, also marked the beginning of the decline of Frohsinn. However, 1960 was also the year in which Oktoberfest, our current and prominent celebration of our German heritage, began. 1960 seems to be a turning point for the German cultural identity in the La Crosse area. While the World Wars may have stifled parts of our German culture, we still took it along with us into postwar America. As those generations from before and during the World Wars aged, their children took parts of their parents' culture and made it their own.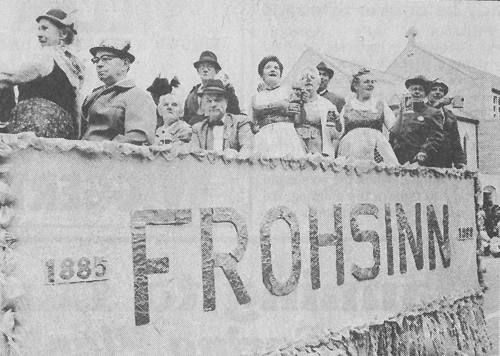 Parade float, 1960s; La Crosse Tribune, 18 April 1985
In 1985, the Frohsinn Society celebrated its 100th anniversary with only 13 remaining members. At that point, speaking in German and singing Volkslieder became less frequent at meetings, and meetings themselves came along even less often.  1995 marked the final year for the La Crosse Frohsinn Society, closing the books on its 110-year history.
Today, nearly 200 years after Germans began settling Western Wisconsin, our German roots are buried so deep under other various cultures that perhaps we may not now recognize exactly where they originated. However, the legacy that the Frohsinn Society tried to preserve in the United States—the celebration of German culture through song, is bound to be glimpsed at not only this upcoming Oktoberfest, but for years to come. All you have to do is listen for the rising chorus of "Ein Prosit," a song which at Oktoberfest declares a toast to celebrating our German heritage together, just as the Versammlung Frohsinn sought to do in 1885.
For more information on the Frohsinn Singing Society, check out the finding aid for their collection of materials at the Archives here.