Dorothea M. Fox: The Pedaling Librarian
(written by Jenny DeRocher, Archives Staff)
In August 1939, a librarian working in Cedar Rapids, Iowa named Dorothea M. Fox decided to hop on her new, light-weight, 3-speed Schwinn and ride by herself to her childhood home in La Crosse. She rode 30-40 miles a day, sight-seeing in the day and staying at hostels at night. A year later, in 1940, she published a book about her travels called, Pedalling to Adventure, in which she tells of her travels and contextualizes the history and culture of the land around her.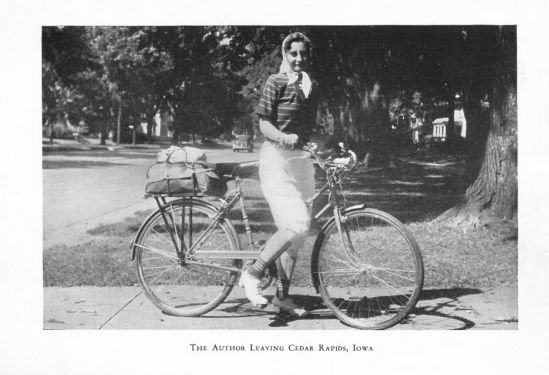 This photograph of Dorothea M. Fox is printed in her book, Pedalling to Adventure (1940). In the book, Dorothea wrote, "This is the advice I would give: travel in knickers or shorts and polo shirts. In your bag keep a change of clothes. For girls, a non-crushable silk dress for party purposes, a skirt, a change of polo shirts, a double sweater outfit for cool weather, a change of underwear and short socks. Don't forget the tooth brush and other personal belongings. For the boys a change of colorful slacks, shirts, sweater and socks or — no socks. But most important of all, go prepared for rainy days by wearing sandals that will dry out quickly along the road, and a hooded rain cape which will go over the handle bars. Then you won't mind the drizzles," (page 11). Presumably, this is all she packed on her rack in this photo.
Dorothea Fox was born in November 1904 to Louis and Maude Fox. Her father, Louis, was born in Germany and made his way to La Crosse around 1900—his journey before he lived in La Crosse is unknown. Maude Koethe Fox, Dorothea's mother, was born in La Crosse in 1880 to a German immigrant family. The Koethes lived at 925 Ferry St., where Maude's father, Guenther Koethe manufactured vinegar in the home. At 19, Maude worked for the Salzer Seed Company before meeting and marrying Louis in 1903.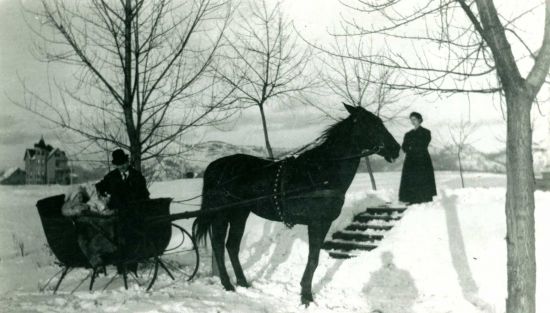 The Fox family lived at 125 S. 21 St. (today this home's address is 141 S. 21st St.). On the back of this photograph, Dorothea wrote: "Dad's sleigh and Big Joe, our beautiful black horse. Dad is standing with my brother and I in [the] sleigh and mother is standing at the steps in front of our home." You can see the bluffs in the background and just a few structures to the northeast on Main Street. This photo is courtesy of the Dorothea Magdalena Fox Papers, MS 459, Box 1, held at the University of Texas at El Paso Library Special Collections Department.
Louis and Maude had two children, Dorothea and her brother Willard Fox. The family lived at 125 S. 21 St. (today this home's address is 141 S. 21st St.). Louis' career began as a horseshoer in a blacksmith shop that he first co-owned with Albert Steckmann, and later his brother Henry Fox. By 1919, the Fox brothers went into the car industry and opened the General Motor Car Company. Willard worked with his father and uncle and lived with his parents until sometime in the 1940s, at which point he started living at the YMCA. Later in life he lived at the Stoddard Hotel, where he died in 1980.
Dorothea graduated from Central High School in 1923 and went to La Crosse State Teachers College (now UWL). After receiving her degree in 1929, she moved to Minneapolis where she attended library school at the University of Minnesota. In 1930, she accepted a position as librarian at the Cedar Rapids Public Library.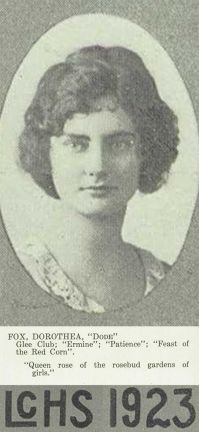 Dorothea M. Fox in the La Crosse Central High School yearbook, 1923.
While living in Cedar Rapids, Dorothea read a book called How to Travel Without Being Rich by William McCreery Strong (1937), and it inspired her to travel Europe by bike. In the summer and fall of 1938, she joined a group of 25 Americans through a travel nonprofit in New York called the Students International Travel Association to complete a 10-week trip that covered England, France, Germany, Holland, Italy, and Switzerland. They stayed in youth hostels for $0.25/night and rode around on three-speed English bicycles. Dorothea reported that some of the most notable hostels she stayed at were old castles and the Wittenberg Church. The purpose behind the tour was to "encourage the youth of the land to learn more about their country through holiday travel," according to Dorothea.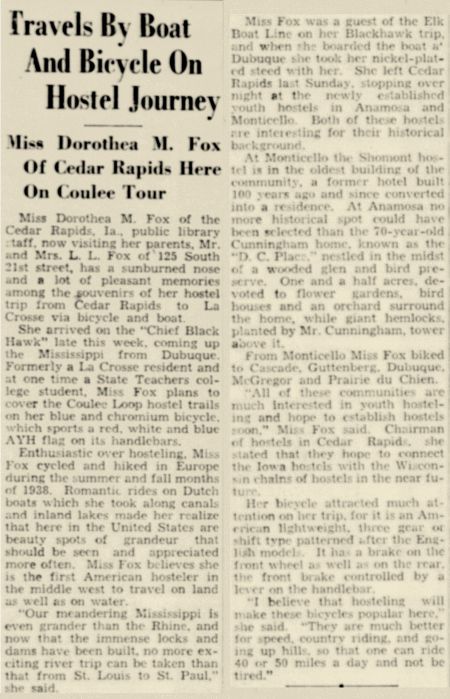 According to this La Crosse Tribune article, the Europe trip led Dorothea to realize that "here in the United States are beauty spots of grandeur that should be seen and appreciated more often." She told the reporter, "Our meandering Mississippi is even grander than the Rhine, and now that the immense locks and dams have been built, no more exciting river trip can be taken than that from St. Louise to St. Paul." La Crosse Tribune, August 6, 1939, page 10.
The summer after her Europe trip, Dorothea took the challenge to learn more about her homeland and over the course of a week, biked from Cedar Rapids to Dubuque. From there, she rode a steamboat up the river to La Crosse. This is the journey she narrated in Pedalling to Adventure. She used the book to advocate for youth hotels while sharing the importance of understanding the history of the land you occupy. Dorothea wrote for a wide audience and described the natural history of the Driftless Area in detail for those who have never heard of it. She also used the landscape to explain Iowa and Wisconsin's history.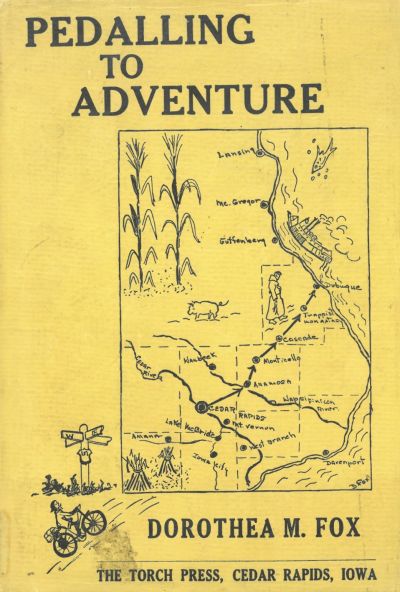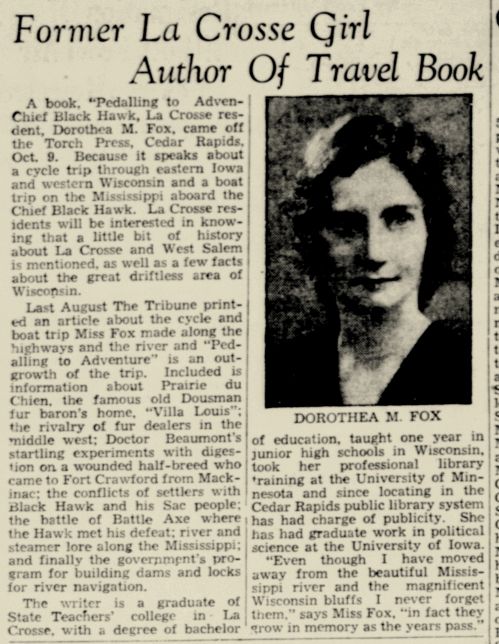 La Crosse Tribune, October 15, 1940, page 8.
Sometime after she published the book, she moved to Indiana to work at the Mishawaka Public Library. In 1942, she married her childhood friend Miles Graves in Apache, Arizona but continued working in Indiana. Dorothea kept her maiden name and she and Miles separated sometime during the 1940s or 1950s. Both the La Crosse Tribune and the local El Paso newspaper reported in December 1949 that Dorothea was head librarian of the Briggs Air Force Base in El Paso, where she remained for many years and researched local history.
Before Dorothea died in El Paso in 1999, she donated many of her papers to the University of Texas at El Paso Library Special Collections Department, but a few of her scrapbooks ended up here at the La Crosse Public Library Archives. In these scrapbooks, she pasted newspaper clippings of Germany and wrote memories of riding down cobble streets on her 3-speed bike before WWII changed Europe's landscape. It's clear that these two bike trips shaped the remainder of her life and career.