History of the American Legion Roy L. Vingers Post 52
(written by Hunter Kopp, UWL Public History Intern Fellow)
Preamble to the Constitution of the American Legion:
"For God and Country

We associate ourselves together

For the following purposes:

To uphold and defend

The Constitution of the United States of America;

To maintain law and order;

To foster and perpetuate

A one hundred percent Americanism;

To preserve the memories and incidents

Of our associations in the great wars;

To inculcate a sense of individual obligation

To the community, state, and nation

To combat the autocracy

Of both the classes and the masses;

To make right the master of might;

To promote peace and good-will on Earth;

To safeguard and transmit to posterity

The principles of Justice, Freedom, and Democracy;

To consecrate and sanctify our comradeship

By our devotion to mutual helpfulness."
American Legion's Birth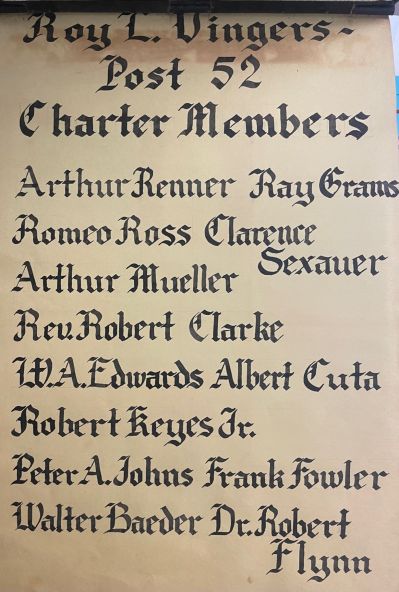 American Legion Post 52 charter members listed in a scrapbook held at the La Crosse Public Library Archives. Charter members include: Arthur Renner, Ray Grams, Romeo Ross, Clarence Sexauer, Arthur Mueller, Rev. Robert Clarke, W. A. Edwards, Albert Cuta, Robert Keyes Jr., Peter A. Johns, Frank Fowler, Walter Baeder, and Dr. Robert Flynn.
A caucus was held in Paris, France on March 15, 1919. All the representatives were veterans of the Allied Expeditionary Force. Lt. Col. Theodore Roosevelt Jr. and the caucus laid out plans for what would become the American Legion. On March 31, 1919, a meeting of ex-servicemen was held at the La Crosse Court House to make plans for the forming of a local chapter of the American World War Veteran Society. Reverend Robert Clarke had recently returned from his duties as Army Chaplain and presided over the meeting. Organization of the local charter was completed April 4, 1919, when 45 ex-servicemen met to elect officers.
Rev. Robert Clarke was elected acting president with Clarence Sexauer as secretary and Arthur Mueller as treasurer. On May 12, 1919, an executive committee of the society formed, made up by W. A. Edwards, Jens Rosholt, Jack Dalhgren, Romeo Ross, Mike Birnbaum, and Ray C. Grams. Nine months after the Armistice of 1918, a charter for an American Legion Post was received from National Headquarters. It was dated August 20, 1919 and listed the name as Frank L. Shuman Post 52.
The Naming of Post 52
Frank L. Shuman, born in La Crosse, was known locally as a superintendent of the La Crosse Telephone Company for many years. Later, Shuman moved to Bismarck, North Dakota. There, he was a manager at the North Dakota Independent Telephone Company for about 10 years. When the U.S. joined the Entente in World War I, Shuman enlisted in the Signal Corps and left officer training at the rank of Captain. Due to his expertise in telephones, he was quickly promoted to Major. Achieving the rank of Major within six months was and still is a very rare occurrence. It was well publicized in La Crosse that Frank and his older brother J. B. were both Majors in the U.S. Army. Major Frank Shuman went on to be the Chief Signal Officer of the 84th Training Command. However, he passed away from pneumonia on October 19, 1918. Shuman's remains stayed in France until he was reburied in Oak Grove Cemetery on December 20, 1920.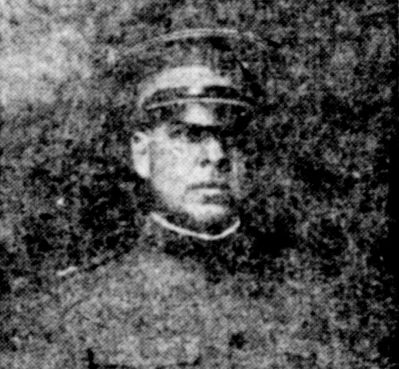 Major Frank L. Shuman. Photograph from La Crosse Tribune, November 20, 1918.
However, Shuman's name on the Post would last less than a year. In these early days of the American Legion, there was a national feeling that enlisted men were not represented enough in the posthumous naming of Posts. Because Shuman was a Major and at the time of his death was a North Dakota resident, not a La Crosse resident, it was decided that the Post should be named after a local soldier who had a lower rank, and died in action.
Sergeant Roy Vingers was the first reported enlisted local man to be killed in combat during World War I. Many soldiers killed in action were recorded as missing in action for weeks, months, or even years because their death could not be confirmed until POWs were returned. Later, it was found that Vingers was not the first soldier of La Crosse to be killed in combat, but this was believed to be true for long enough that he was chosen as a candidate for the renaming of the Post. Thus, on April 1, 1921, the Post's name was officially changed to Roy L. Vingers Post 52 to honor him.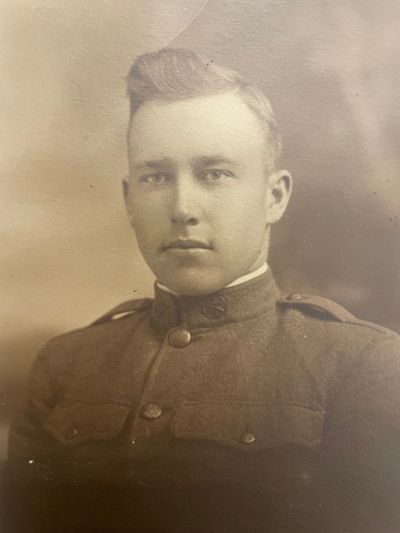 Sergeant Roy L. Vingers. Born January 14, 1896. A large hand painted portrait of this photo hangs on a wall in Post 52's bar.
Roy Vingers enlisted in Company B of the 3rd Wisconsin on February 18, 1915, and fought in the Punitive Expedition or Pancho Villa Expedition under the command of General John J. Pershing. This expedition was launched in retaliation for Francisco "Pancho" Villa's attack on Columbus, New Mexico. Vingers later served with Company B of the 128th Infantry, 64th Brigade, 32nd National Guard Division and fought in the Ainse-Marne Counter Offensive. Roy Vingers was killed in the commune of Chateau-Thierry, France on August 5, 1918. He is buried in La Crosse's Oak Grove Cemetery.
Finding a Home for Post 52
Original meeting places for Post 52 include:
Old La Crosse County Court House between State and Vine St. (Parking Lot C)

Knights of Pythias Lodge Hall on Fifth Ave.

Wiggerts Hall over the Continental Clothing Store on Pearl and Fifth Ave.

KP Hall at Fourth and Jay St.

Business College Building at Third and Main St.

Boerner Drug Store at Third and Main St.

Marinello Beauty Supply Company Building at 215 South Sixth St. (1936 – 1969)

Governor's Guard Armory at 711 South Sixth St. (current home of American Legion)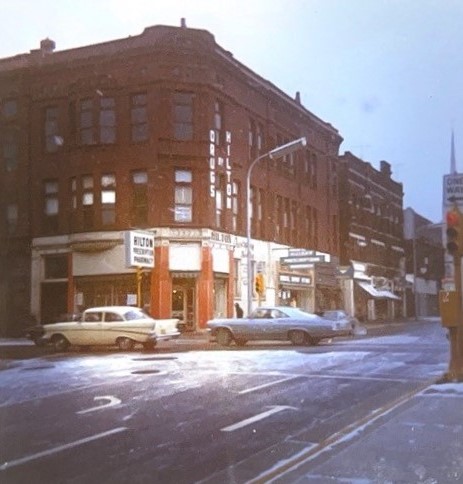 KP Hall at Fourth and Jay St. This was one of the first meeting halls for the American Legion (circa 1920s). Meetings took place on the third floor. Picture taken years later by Post historian Dr. Hale W. Hunt, circa 1968.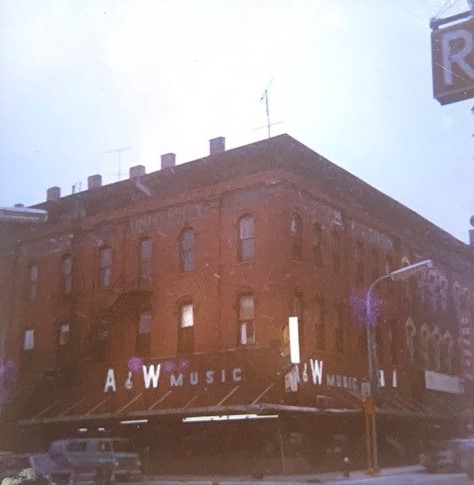 Another place where early American Legion meetings were held were in the rented rooms of the Business College at Third and Main St. Meetings took place on the third floor around the early 1930s until the purchase of the Marinello Beauty Supply Building in 1936. Picture taken circa 1968.
The American Legion met in all sorts of buildings that were allotted or rented to them. In 1936, they purchased and remodeled the Marinello Beauty Supply Company Building at 215 South Sixth St. The American Legion called that building home for 33 years. On July 25, 1968, a special meeting was held to decide the fate of the old Marinello Building. The building was condemned due to failing roof girders.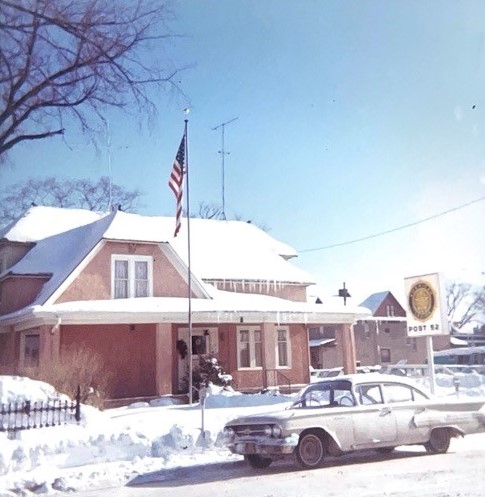 Marinello Beauty Supply Company Building at 215 South Sixth St. This building served the American Legion from 1936 to 1969. Picture taken January of 1969.
Thus, the decision was made to sell the property and buy the former Governor's Guard Armory building and the adjourning lot at Sixth and Market Street. With both lots purchased, a basement and a bar were added onto the existing Armory structure. The first meeting was held in June of 1969 and the move was completed in August. The add-on of the bar and basement was completed on September 20, 1969. This former Governor's Guard Armory is the home of the Roy L. Vingers Post to this day.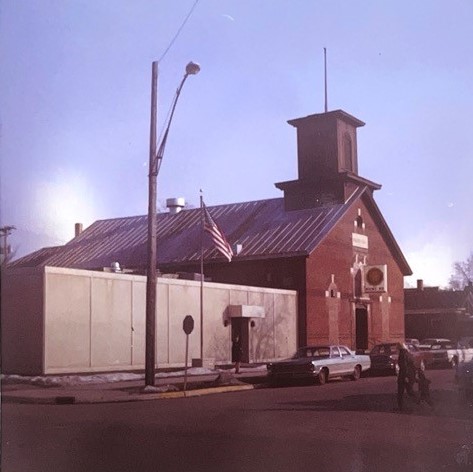 Governor's Guard Armory 711 South Sixth St. Purchased in 1968-1969, is the current home of the American Legion. This photo depicts the original brick structure which is now covered in stucco that was added in the summer of 1980. The copula featured in the photo was removed in December of 1972. Picture taken in March of 1970.
Post Activities
Roy Vinger's Post 52 participated in a lot of activities throughout the years. One of the biggest activities the Post did was baseball. On July 17, 1925, the American Legion baseball program began. Many national Major League players throughout the years have graduated from the Legion baseball program. Approximately 82,000 players participate each year. Post 52's baseball team formed in the early 1930s and is still active to this day. The Post also hosted many breakfasts, lunches, and dinners to generate revenue. Many of those meals were spaghetti, steak, chicken, fish, and pancakes with sausage. Post 52 hosted many dances with live music throughout the decades.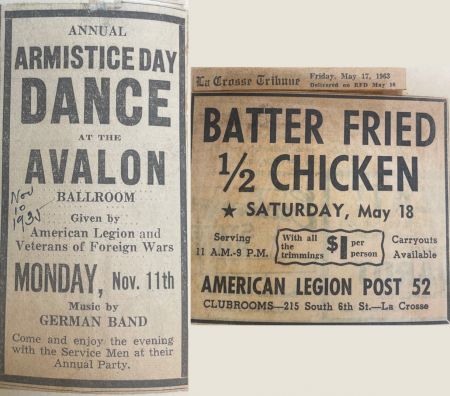 (Left) Armistice Day Dance advertisement from the La Crosse Tribune, November 10, 1935.
(Right) Charcoal Steak Fry advertisement from the La Crosse Tribune, circa April 1967.
The Wisconsin American Legion and Badger Boys State have been involved with one another since 1939. The Wisconsin American Legion helped create the Badger Boys State to try and educate young leaders about citizenship and civic responsibility. 'Americanism' was a common word spoken around Legion Posts and was a major focus for them. Americanism is defined as the attachment or allegiance to the traditions, institutions, and ideals of the United States. Badger Boys State helps teach the idea of 'Americanism' to the younger generations. Badger Boys State continues to educate high school students about their government today. The Wisconsin Legion donates large sums of money each year to help send students to Portage, Wisconsin.
Another big program for the American Legion is the naturalization of people wishing to become U.S. citizens. For over a century, the American Legion has supported naturalization. Post 52 has, over many decades, helped sponsor and conduct these ceremonies for the La Crosse Circuit Court.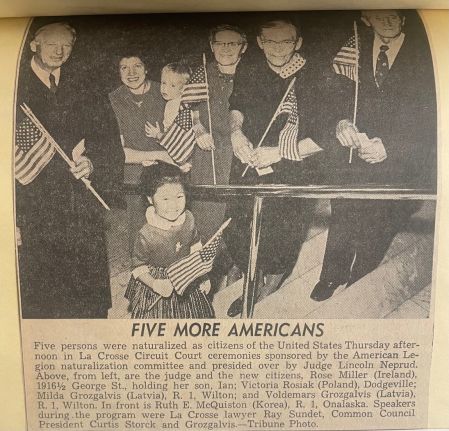 Naturalization Ceremony at the La Crosse County Court House. Ceremony took place on November 5, 1964.
One of the most notable activities the Legion does is their annual Poppy Campaign. The poppy flower became the official flower of the Legion on September 27, 1920. This program has been led by the American Legion Women's Auxiliary since 1921 and in 1924, the distribution of the paper flower became a national program. The poem "In Flanders Fields" by John McCrae popularized the poppy. The poppy is a memorial flower to the dead. It all started after World War I, when the poppy was the first plant to reemerge through the scars that were left behind. They also famously grew between the crosses that marked the graves of soldiers who were buried in Flanders, Belgium. The flowers are all handmade by veterans or by other veteran associations. The money raised from these poppies goes to assisting disabled, hospitalized veterans, and other Legion welfare programs.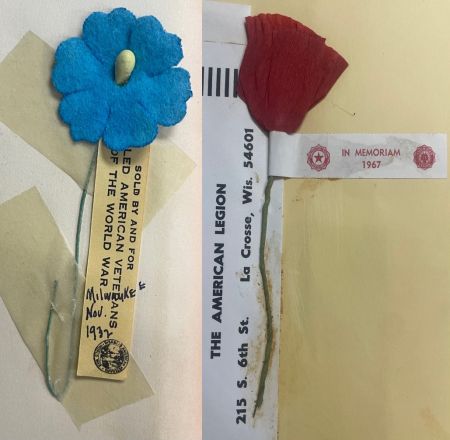 (Left) Blue Hydrangea flower. Blue Hydrangeas were another flower attributed to veterans. The bright blue represents a sense of justice and patriotism. The tag reads "Sold by and for disabled American veterans of the World War." Marked Milwaukee, November 1937. 
(Right) Classic red crepe paper poppy. This poppy is dated 1967.
La Société des Quarante Hommes et Huit Chevaux
The Society of Forty Men and Eight Horses was formed in March of 1920 by Joseph W. Breen and fifteen other Legionnaires. These men envisioned a prestigious and private organization that was connected to the American Legion. The story behind the organization's unique name begins with America's entry into the First World War. Many U.S. Doughboys were herded into narrow gauge French railcars stenciled with "40 Hommes/8 Chevaux" or in English, "40 Men/8 Horses." This very uncomfortable mode of transportation was all too common for American soldiers and was seen as a mutual bonding experience. The French railroad theme was kept for the organization. Officer titles are all in French. For example, Chef de Gare means station master. Voyageurs Militaire means military travelers. Candidates for membership were called Prisonniers de Guerre. In 1923, the 40 & 8 were incorporated into the Legion as equal partners.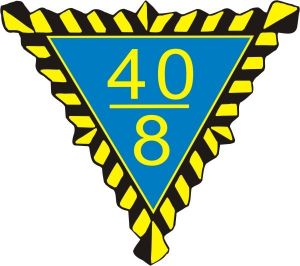 La Société des 40 Hommes and 8 Chevaux's emblem.
For many years, a schism slowly formed between the American Legion and the 40 & 8. The organizations at heart, were fundamentally different. The American Legion was easy to join and non-fraternal. The 40 & 8 was elite and racially segregated. There was disapproval in funding of programs and lack of recognition between each organization. In early 1960, the Legion began to pressure the 40 & 8 to rewrite its constitution to be racially inclusive. Ultimately, the two organizations split off from one another. In 1973, a vote was cast to amend the 40 & 8's constitution to prohibit any Voiture from excluding membership on the basis of race. The vote was 1,280 in favor, and 467 not in favor. In 2006, women were made eligible to join the 40 & 8. The requirement of Legion membership was removed in 2008. All honorably discharged veterans and active duty servicemembers are now eligible to join. A formal invitation from a member in good standing is all that is needed.
One aspect that is unique to the 40 & 8 is the use of scale replica French locomotives in parades and other revenue generating activates. Many Voitures created their own replicas of the French trains throughout the years. La Crosse's Voiture 830 is no different. Voiture 830 has had their own "Loci" for many decades and is prominently showed in local parades.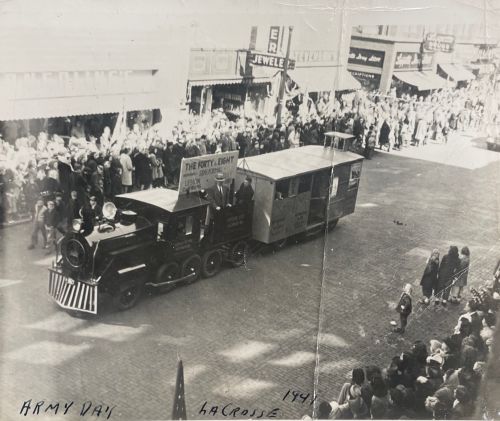 Voiture 830's locomotive with a replica 40/8 box car. Picture taken on Army Day, April 6, 1941. Army Day was last observed nationally on April 6, 1949.
Roy L. Vingers Post 52 Records
Much of the history about Roy L. Vingers Post 52 is known and maintained through the scrapbooks dated from 1922 to 2008, which were donated to the La Crosse Public Library Archives by Post 52. Dr. Hale W. Hunt, who served as Commander in 1941, and Post Historian from 1966 to 1982, consolidated much of the Post's early history. Without his attention to detail and preservation of the Post's early history, much of it could have been lost to time. Roy Vingers Post 52 continues to be the largest Post in Wisconsin, with over 1,200 members. They continue to be an active member in the La Crosse community.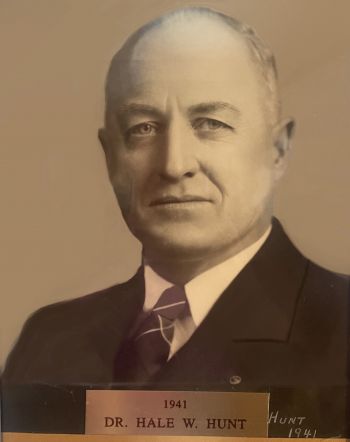 Dr. Hale W. Hunt. Commander and later Post Historian. Picture is dated 1941.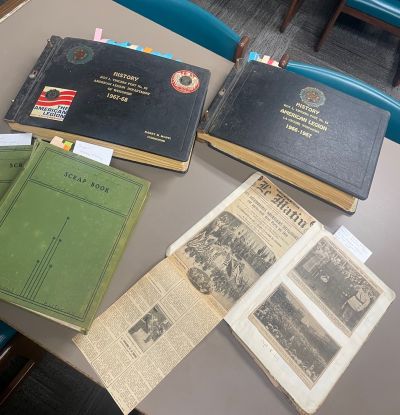 These are five of the sixty-two scrapbooks that were donated by Post 52 to the Library Archives. The two green scrapbooks on the left are dated 1934-1936. The two large black scrapbooks are dated from 1966-1968. The opened scrapbook is from the 9th Legion National Convention, dated 1927.