Stoddard Hotel was a Show Place
(Anita Taylor Doering, Archives Staff, and Carole Mullen, Archives Volunteer)
Many "old timers" remember the Stoddard Hotel.  It was built to be THE premier hotel in La Crosse and part of its role was to serve as what we might call today as a mini-conference center.  It had a ballroom which was the site of many social gatherings and meetings – wedding receptions, Rotary luncheons, political gatherings and the like.
It was also THE place where celebrities stayed when they performed or had other dealings in our fair city.   Famous guests of the Stoddard have included Presidents John F. Kennedy and Richard Nixon, Elvis Presley, Frank Lloyd Wright, Sinclair Lewis, Count Basie, Louis Armstrong, and Tallulah Bankhead.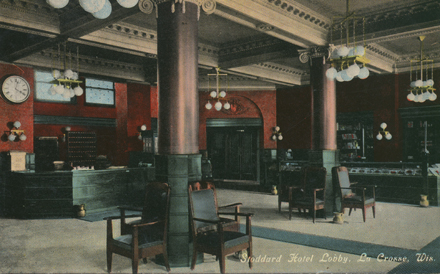 The hotel was situated at the southeast corner of 4th and State streets, across from the post office building.  It was named "The Stoddard" after La Crosse's first mayor, Thomas B. Stoddard.  While he won the first city election for mayor in 1856 by one vote over his buddy John Levy, he wasn't as lucky in love.  But that's a story for another time.
Built in the Elizabethan-Corinthian style, The Stoddard was then the only fireproof hotel in the state when it opened in 1904.  Guest rooms at the newly opened Stoddard featured beds with 35 pound hair mattresses and springs, and telephones in nearly every room, a rarity for those days.
The Stoddard's lobby boasted marble floors, dark oak woodwork, and bronze grillwork.  North of the lobby was the reading and writing room, containing a fine collection of books.  Spittoons were an essential part of any well appointed hotel of the time.
The Stoddard was built with six ornate arched stained glass windows, three on each side of the 4th Street entrance, with a seventh stained glass window above a special ladies' entrance on State Street.  Rates for single rooms at the Stoddard in 1904 were $2.50 to 5.00 for a single room, and $5 to $8 for a suite.  Horse drawn coaches met all trains to transport guests to the new hotel.
Remodeled many times to keep up with the competition, a major renovation of the rooms occurred during the Depression, from 1929-1931.  A chandelier chosen for the Stoddard's 1929-30 remodeling cost $20.75, expensive for the time.  Before the hotel was razed in 1982, that same chandelier sold for $2,250 at auction.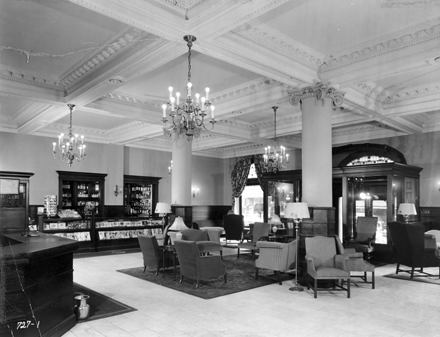 Doomed by debts and the costs of maintaining a 77 year old building, The Stoddard Hotel was demolished in February 1982. The 4th and State location where it stood is now a parking lot.