Neighbors Making History: Stanislaus Mateske
(written by Jeff Rand, retired Adult Services Librarian)
On the popular television series Shark Tank, entrepreneurs pitch their products or services to multi-millionaires hoping for an investment and a partnership that will launch their businesses to dizzying heights.  Some of the guests on the show are bouncing back from hardship or earlier failures, and some come from an immigrant heritage that was propelled by the American Dream.
The October 21, 1945, edition of the La Crosse Tribune marked the passing of a La Crosse man and entrepreneur who had overcome both his immigrant roots and great personal hardship on his way to becoming a successful businessman.
Stanislaus Bernard Mateske was born in West Prussia on September 10, 1873.  Although a section of the Prussian (German) empire at the time, the region of his birth was historically part of Poland.  After World War II, all of what was West Prussia was incorporated into Poland.  Mateske's native language was Polish, and his formal education ended at the sixth grade.
Mateske family came to the United States in 1885, when Stanislaus was about 12 years old.  By 1891, the family was living at 700 Kane Street in La Crosse.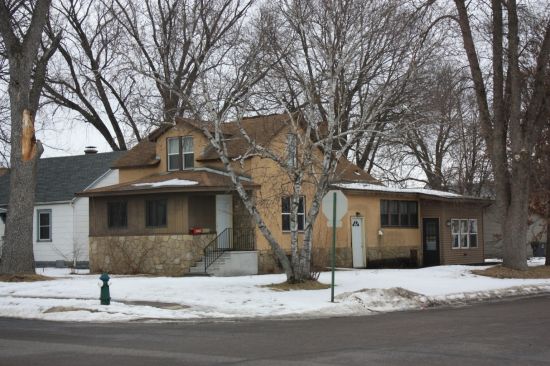 700 Kane Street as it appears today (2022), Jeff Rand photographer
Like so many immigrants with limited education and English as a second language, manual labor on farms and in factories was the only way for them to make a living in the United States.  Stanislaus worked at the La Crosse Plow Works, 519 North 3rd Street, owned by Albert Hirshheimer, for several years.  Then he worked as a mattress maker for Tillman Brothers.  Fred and William Tillman had a wholesale and retail furniture business, as well as a funeral parlor, at 116-118 South 4th Street.
Stanislaus married a woman named Eva around 1900 and they made their home at 839 Gould Street (now 829 Gould Street, an empty lot) in La Crosse.  Their first child, a daughter, was born in 1901.  This child was referred to as an "invalid" in primary documents, which means she likely had some sort of disability.  She died young on March 15, 1913.  Their second daughter, Stella, was born on July 6, 1905.
Stanislaus Mateske had left the Tillman Brothers business and had become a mattress maker for Advance Bedding company at 327 Front Street in La Crosse.  It was while working for Advance Bedding that Mateske was injured on the job and left unable to work.
Had this happened after September 1960, Stanislaus Mateske would have easily qualified for Social Security Disability because of his inability to work.  But this happened to him in 1916-1917, and the socioeconomic safety net was much smaller half a century earlier.  His recourse at the time was to go before the Wisconsin Industrial Board to ask for compensation at a hearing in the county courthouse in February 1917.  At the same time, Mateske also petitioned the La Crosse County Board of Supervisors for aid.  His request was referred to the "committee on Poor and Insane and County Physician."  That committee decided that La Crosse County would grant Mateske, along with eleven others who had also petitioned, $100 per year for their disabilities.  That was not enough to even begin to support himself, his wife, and daughter.
Unable to work at a regular job and needing to generate income, Mateske started selling popcorn to employees at the La Crosse Rubber Mills.  His business grew to the point that Mateske opened a small confectionary and grocery store at 1101 St. Andrew Street in 1918.  The store sold candy, gum, pastries, ice cream, coffee, liquor, chewing tobacco, cigars, and cigarettes.  The 45-year-old Mateske had moved back into his mother's house at 700 Kane Street by this time.
Then there was another personal tragedy.  On July 22, 1918, his 47-year-old wife, Eva Mateske, died of "complication of diseases."  Their daughter, Stella, was just 12 years old.
Robbers apparently viewed Mateske's store as an easy target.  On December 19, 1922, someone broke in while Mateske was away eating supper and stole $70.  A year later, Mateske's store was robbed twice in just three days.  On December 17, 1923, a robber took between $12 and $15 after prying open a back door.  Then on December 19, a robber smashed the front door and stole all of the cigars and most of the cigarettes.  Another robber struck over lunch hour in September 1926 and made off with $35-$40.  He was apprehended about a month later and was sentenced to 12-18 months hard labor at the Waupun state prison.  An even bolder robbery occurred on November 8, 1928, at 7:30 a.m.  Two men ordered a package of tobacco before one of them shoved a pistol into Mateske's side while his partner took between $40 and $45 from the cash register.  An ex-con from Idaho was arrested just four days later, confessed and pleaded guilty in La Crosse County court the next day, and on November 17 was sentenced to seven to fifteen years at the Waupun state prison.  The store was burglarized in June 1930, but nothing was taken.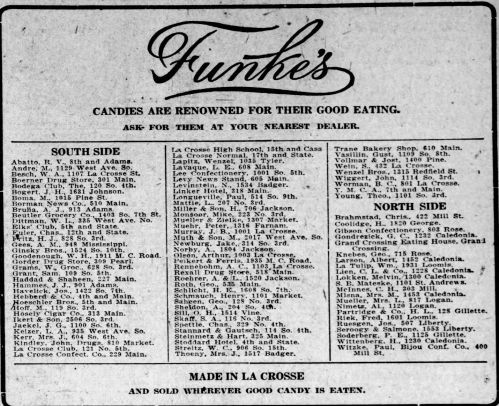 Mateske's store on the North Side was just one of many places in La Crosse that sold Funke's candies - La Crosse Tribune 17 May 1922 p11.
Fourteen years after his first wife died, Stanislaus Mateske married for a second time.  His second wife was Florence King Snedden of Rocky Mount, North Carolina.  Mateske and Snedden, who as Florence King had been a music teacher in La Crosse before moving to North Carolina, were married on February 6, 1932.  They made their home at 1103 ½ St. Andrew Street, right next to Mateske's store.
Stanislaus Mateske was also known as one of the pioneers in amateur radio in La Crosse.  In about 1922, he had a ham radio installed in his store.  Mateske could exchange voice messages as far away as Kansas; using the Morse code key, he could reach New Hampshire, Vermont, and the states on the Mexican Gulf.  The La Crosse Radio Association, well established by 1925, sent, received, and delivered non-commercial messages between people for no charge.  When a blizzard during the winter of 1925-1926 knocked out most telegraph wires in the tri-state area, Stanislaus Mateske stayed up all night with the shortwave radio in his store receiving telegraph messages and relaying them by telephone.  Mateske gave presentations and instruction on telegraphy to Boy Scouts, and he even traveled to Janesville to give a presentation at the state school for the blind in early 1923. 
Mateske operated his store at 1101 St. Andrew Street until 1941.  He was 68 years old, and he may have wanted to cut back on his work hours.  For the next four years, he ran a canteen selling food, snacks, and drinks at the Rubber Mills and Trane company factories.
Stanislaus B. Mateske died on October 20, 1945, at the age of 72. Funeral services were held at the St. John's Catholic Church, and he was buried in the Catholic Cemetery.  Mateske was survived by his second wife, Florence; daughter Mrs.  Stella Leisgang of La Crosse; two grandchildren; a sister in Chicago, another sister in Akron, Ohio, and a brother in Minneapolis.
His widow, Florence, retained ownership of the store at 1101 St. Andrew Street until early 1954 when she sold it to Mathew F. and Dorothy Koelbl.  Florence married again in 1953 and died three years later in Tennessee.
The Koelbl family converted the store into a tavern and operated Matt's Tavern or Koelbl's Bar there for the next 42 years. John and Jean Woods bought it in 1997, and it became Teddy Bear's bar.  Duane and Tonia Genz bought it in January 2015 and opened Genzie's Gameday Pub which remains in business today.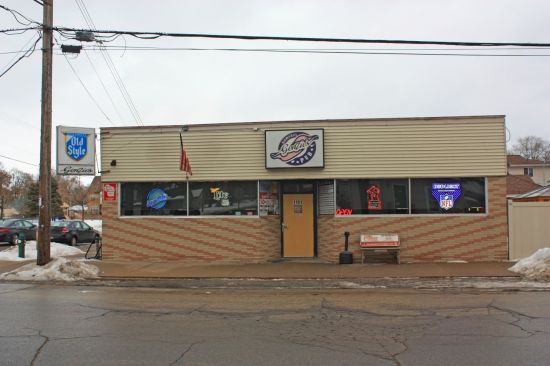 Genzie's Gameday Pub at 1101 St. Andrew Street (2022), the former location of Mateske's store, Jeff Rand photographer
The sub-headline of the La Crosse Tribune article about Stanislaus Mateske's death was "'Blind Mike' Known To Many Residents."  That is because Stanislaus Mateske had been blind for the last 30 years of his life.  He had raised a daughter, opened and operated a store to support himself, and become an expert in shortwave radio all without the benefit of eyesight.
He had lost his eyesight while working in mattress manufacturing at the Advance Bedding company when he was about 43 years old.  Mateske testified before the Wisconsin Industrial Commission that his eyes began to itch when exposed to dust while he was working at a mattress stuffing machine.  No matter what the exact cause, losing his eyesight was a disability that he had to deal with the rest of his life.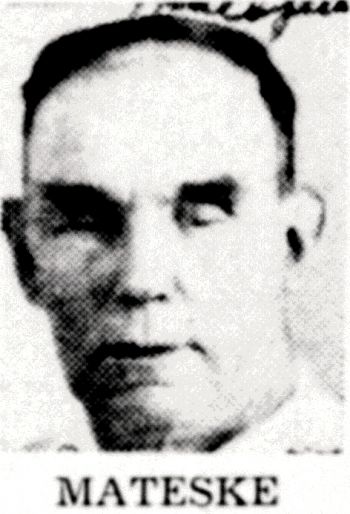 Stanislaus B. Mateske, La Crosse Tribune 21 October 1945 p1
People like Mateske who became disabled due to job-related causes had to rely on whatever benefits their state or local governments offered and their own resources.  Prevention of such work-related injuries was also the province of state and local governments until 1971 when The Occupational Safety and Health Act of 1970 led to the creation of the Occupational Safety and Health Administration (OSHA), within the Labor Department.  It was the first nationwide regulation of working conditions to protect the health and safety of workers on the job.  Although frequently criticized for its myriad of rules and regulations, OSHA seldom gets credit for preventing job-related deaths, illnesses, and injuries.
Even though Stanislaus Mateske did not make history in the conventional sense, he was a notable person in La Crosse's history.  Mateske was an immigrant who had to learn English, overcome a limited education, and then live with blindness to achieve his version of the American Dream.
WANT TO LEARN MORE?