La Crosse Movie Palaces
(written by Scott Brouwer, Archives staff)
For the third year in a row, Dave Solie of WXOW News 19 has come to us to do background research on a film industry related story to air after the Oscars on Sunday, Feb. 26.  This year's piece will be about the historic movie palaces in La Crosse, three of which are still standing and one of which is still operating as a movie theater.  In the Archives, we have a lot of interesting information about these theaters, including newspaper clippings, photographs, and event programs.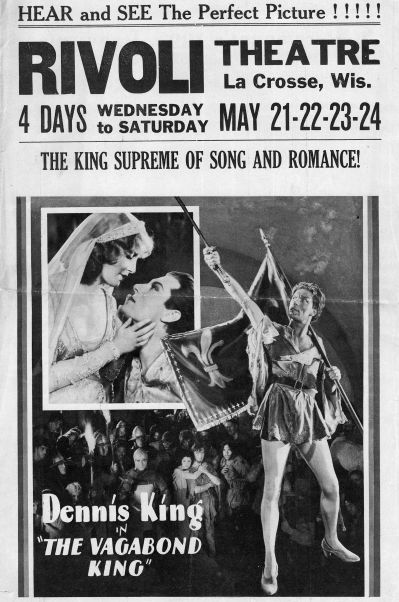 1930 advertisement for a film at the Rivoli
Movie palaces began popping up around the country not long after early motion picture techniques were perfected, years before the first "talkies", or movies with synchronized sound and audible dialogue.  Silent films, often with the accompaniment of a pipe organ or full orchestra, were enjoyed en masse in these theaters that could often seat well over 1,000 people.  The Regent in Paterson, New Jersey, is often recognized as the first movie palace; it was completed and opened to the public in 1914.  Even in these early days of the film industry, movies were an escape from the harsh world many faced in the early 20th-century.  Movie palaces were designed to make an average person feel like a celebrity with over-the-top opulence, grandeur, and seating capacity.  Going to a movie became an event simply because of the amazing venue. 
Rivoli and Riviera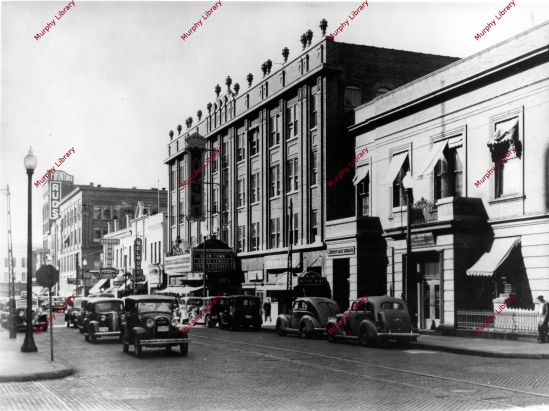 Rivoli Theater, 117 4th St. N, 1940 (photo courtesy of Murphy Library, UW-La Crosse)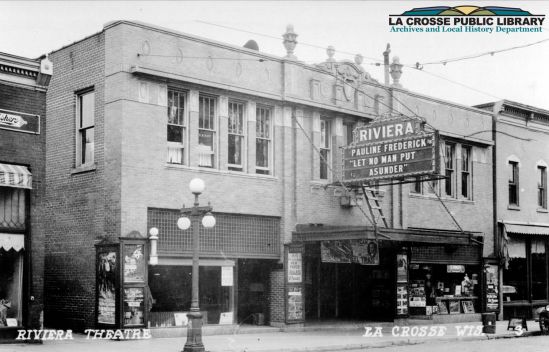 Riviera Theatre, 1213 Caledonia St., 1931
Though they were not the first theaters in town to play movies, the Rivoli and the Riviera were the first dedicated movie palaces in La Crosse.  The Rivoli opened in downtown La Crosse on 4th Street in September of 1920, and the Riviera opened in North La Crosse on Caledonia Street one month later.  This is almost a decade before sound revolutionized the film industry.  Ticket prices were modest, even by early 20th-century standards: 11 cents for children, 33 cents for adults.  In 1939, the Rivoli was the first theater in the area to show popular and critically-acclaimed classics Gone with the Wind and The Wizard of Oz.
Hollywood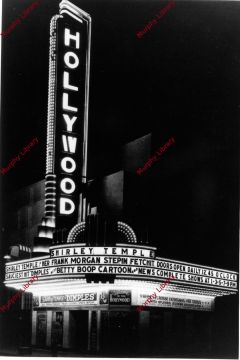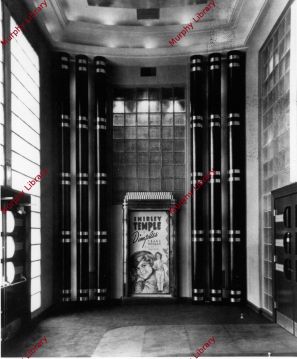 Hollywood Theater, 123 5th Ave. S, shortly after opening in 1936 (Photos courtesy of Murphy Library, UW-La Crosse)
The Hollywood Theater opened to great fanfare in 1936.  Frank Hoeschler, a local developer who convinced the City Council to change the name of 5th Street to 5th Avenue, built the Hollywood as the entertainment destination of his shopping district along 5th Avenue that included Montgomery Wards, Sears and Roebuck, and J.C. Penney.  The original 42-foot illuminated tower and large wrap-around marquee were a visual wonder; they would later be removed after World War II.
Majestic/Wisconsin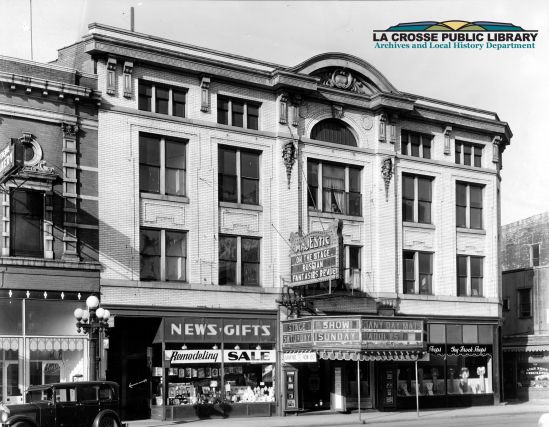 Majestic Theater, 514 Main St., shortly before being renovated and renamed in 1936
The Majestic Theater was built in 1909 on Main Street, just west of St. Joseph the Workman Cathedral.  It originally served as a venue for stage productions and vaudeville; it was notably the home of the Guy and Eloda Beach theatre troupe.  It began showing movies, with a highlight being a one week engagement of The Birth of a Nation in 1915.  This film, now considered highly controversial for its celebration of the Ku Klux Klan and explicitly racist overtones, was nevertheless a cultural phenomenon around the country because of the epic nature of its production and its introduction of many new cinematic innovations and technical effects.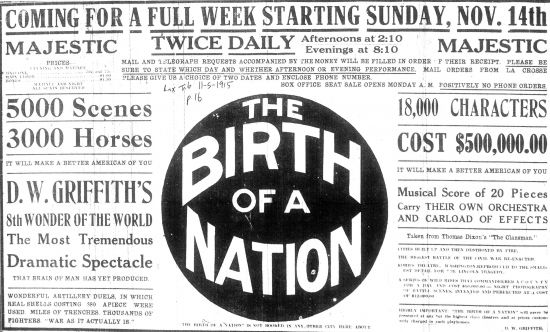 La Crosse Tribune, 5 November 1915
The Majestic was remodeled and renamed the Wisconsin Theater in 1936, becoming a dedicated movie theater venue.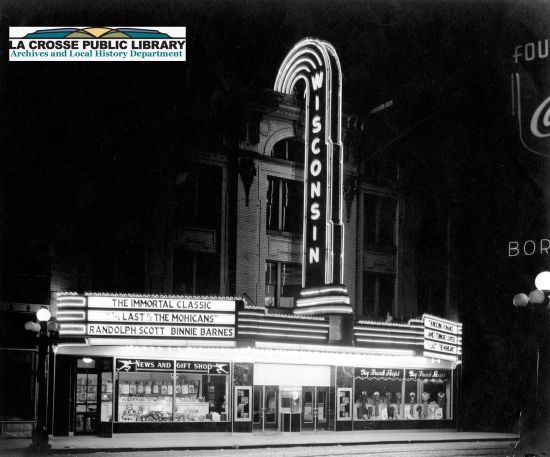 Wisconsin Theater, 514 Main St., 1936
Present Day
Each of these theaters had many great years as entertainment destinations in La Crosse, some more than others.  With the exception of the Rivoli, however, these theaters no longer exist.  If you include such places as the Casino, Strand, Dome, Bijou, La Crosse, Rialto, King, Starlite, and Lyric theaters, over a dozen movie theaters have been lost to history in La Crosse.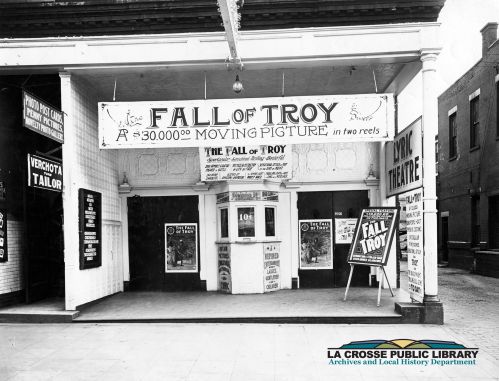 Lyric Theater, 318 Main St., 1911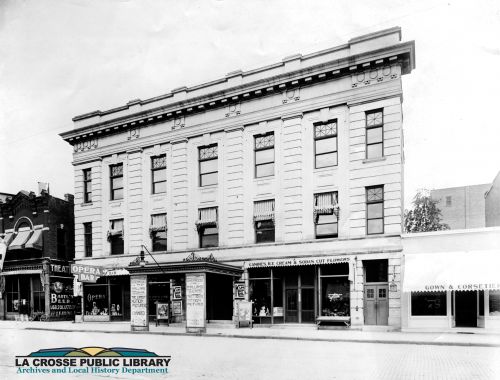 La Crosse Theater, 115-121 5th Ave. S., 1913
The Wisconsin Theater was destroyed by fire in 1952; the building was razed in 1963 and is currently a parking lot for St. Joseph the Workman Cathedral.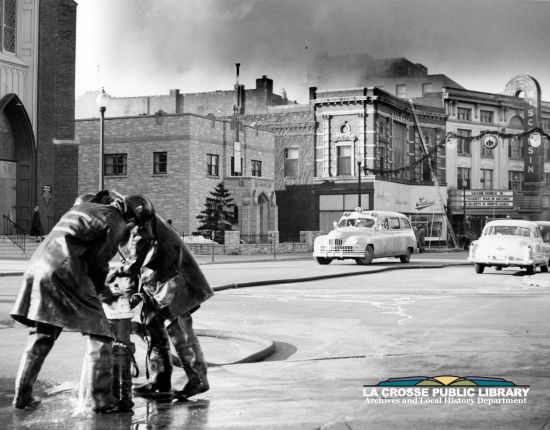 Wisconsin Theater fire, 28 December 1952 (photo by Gary Hantke)
The Riviera closed in the 1960s and became a retail space, currently serving as the Caledonia Street Antique Mall.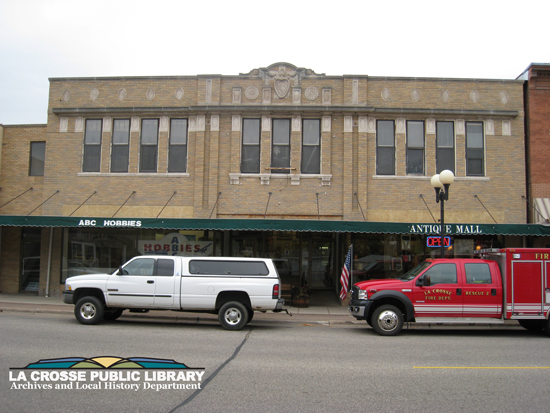 Antique Mall, 1215 Caledonia St., 2008 (Photo by Eric Wheeler)
The Rivoli initially closed in 1987, briefly serving as a concert hall.  There were plans to turn it into a nightclub for a short time in the late 1980s; ultimately it was reopened in its current iteration as a second-run/art house theater in 1994. 
Rivoli Theater, 117 4th St. N, 2008 (Photo by Eric Wheeler)
The Hollywood closed in 1989, reopened in 1993, closed again in 1996, and opened as a live music venue in 1997.  Such varied national acts as Kenny Wayne Shepherd, Everclear, L.A. Guns, Quiet Riot, Leon Redbone, and George Thorogood played there in the late 1990s.  It was donated to the Children's Museum of La Crosse in 2003, which turned around and put it up for sale in 2005.  Efforts to renovate and reopen the theater by current owner Phil Addis were set back by a fire in 2013.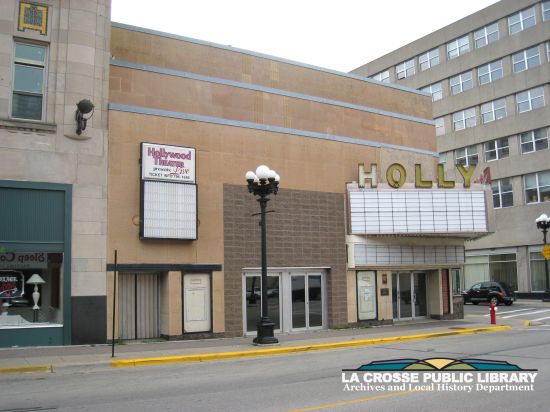 Hollywood Theater, 123 5th Ave. S, 2008 (Photo by Eric Wheeler)
To learn more about any of these theaters, please visit us at the La Crosse Public Library Archives, click on the links scattered throughout this essay, and watch for the WXOW News 19 piece after the Oscars on February 26.