La Crosse's 'Mr. Baseball'
(written by Scott Brouwer, Archives Staff)

"Boober" Parizek may not be a name familiar to baseball fans in La Crosse today, but for a generation of American Legion players in the 1960s and '70s, he was "Mr. Baseball."  William "Boober" Parizek helped revitalize the American Legion program in La Crosse, taking over the struggling program as head coach in 1963.  He led the team to the state tournament in 1964, taking second place; that high finish was followed by a fourth place in 1967 and a third place in 1970.
Parizek's love for the game and all its intricacies were legendary among his players and those who knew him.  Bob Lamb, writing for the La Crosse Tribune on May 26, 2008, shortly after Parizek's death, said this:
"He was a walking baseball encyclopedia, historian, teacher of the game, a great coach and father all rolled into one little man barely 5-foot-6 inches tall." 
Parizek's players were amazed by how much "Boober" knew about the game, specifically the strategies and detailed statistics that he used to great success.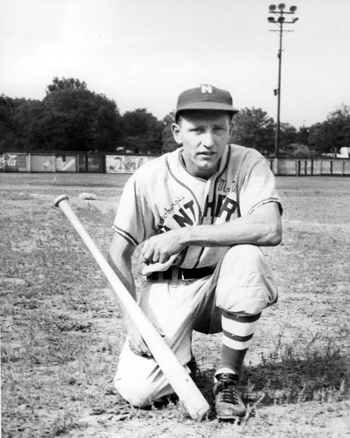 Parizek worked the graveyard shift at the U.S. Post Office in La Crosse, though he never had a driver's license.  He either rode his bike or had his wife, Lorraine, drive him wherever he needed to go.  Players remember him sitting in the backseat, with Lorraine driving, on the way home from road games with a flashlight and a pencil finalizing the meticulous box score that he would be dropping off at the La Crosse Tribune before he reported to work.  When not working or coaching, he could often be found at the La Crosse Public Library reading newspapers from all over the United States, poring over major league and minor league baseball stories. 
Though Parizek died in 2008 at the age of 88, his name lives on in the Boober Parizek Classic baseball tournament that is held each June in La Crosse, now in its 6th year. 
A regular La Crosse Public Library Archives patron, Parizek donated a large collection of materials including clippings, notes, correspondence, photographs and other miscellaneous items about La Crosse baseball and softball teams and players. The detailed finding aid for this collection can be found at William J. Parizek Papers, 1887-2006.