The Segelke & Kohlhaus Manufacturing Company
(written by Scott Brouwer, Archives staff)
The Segelke & Kohlhaus Manufacturing Company was a major manufacturing concern in downtown La Crosse for over 100 years.  The company, in operation from 1857-1960, manufactured sash, doors, blinds, and other material including hardwood floors, stairs, stair railings, newel posts, and balustrades.  Until the turn of the 20th century, La Crosse was a major lumber milling center and Segelke-Kohlhaus took advantage of the large supply of raw materials available.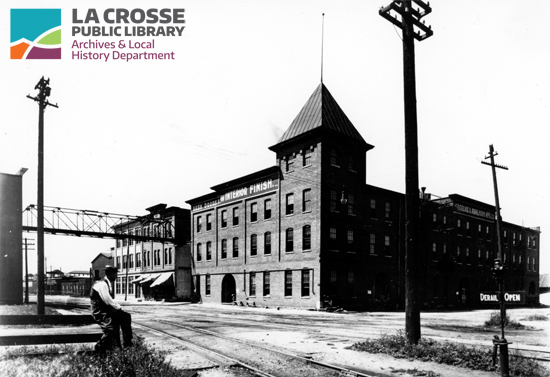 Southwest corner of 2nd and Cass Streets, ca. 1910
Segelke & Kohlhaus had its origins in the establishment of the (Silas) Sack & (C.F.) Segelke carpenter shop in 1857, on the block bordered by King, Front, Cass, and Second Streets.  The untimely 1858 death of Silas Stack by drowning in the Mississippi River led to C. F. Segelke partnering with Jacob Kohlhaus and John Kutzborsky to form the Segelke and Kohlhaus Company in 1859 to "manufacture sash, doors and other materials for buildings."  According to research by Marie J. Kroner, it's likely Kutzborsky did not put up the same capital as the other two, hence his name not appearing on the business.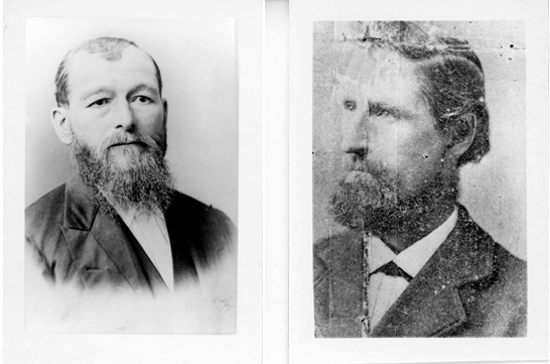 Jacob Kohlhaus and C. F. Segelke
All three were born in Germany and all three emigrated to the United States, each spending time in other places before making their way to La Crosse by the mid-1850s.  All three are considered founders the Deutcher Verein (German Society), an important La Crosse cultural, social, and musical organization formed officially in 1874; Kohlhaus was an 1856 founding member of the Liederkranz, an antecedent singing group to the Deutcher Verein.   
By 1870, the Segelke & Kohlhaus Manufacturing Company needed more space and machinery to meet the demand for their high quality products.  A three-story stone factory was erected on the corner Cross (roughly Front) and Cass Streets.  In 1886, the factory was enlarged, allowing for expansion of products to include "moulding, shingles, plate glass, mantels, and fine interior hardwood finishing" in addition to their sash, doors, and blinds.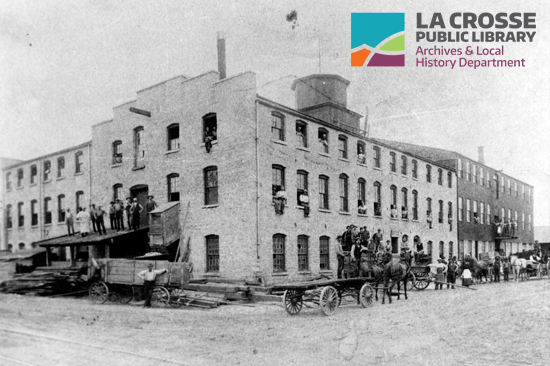 Original factory, Southeast corner of Cross (roughly Front) and Cass Streets, ca. 1890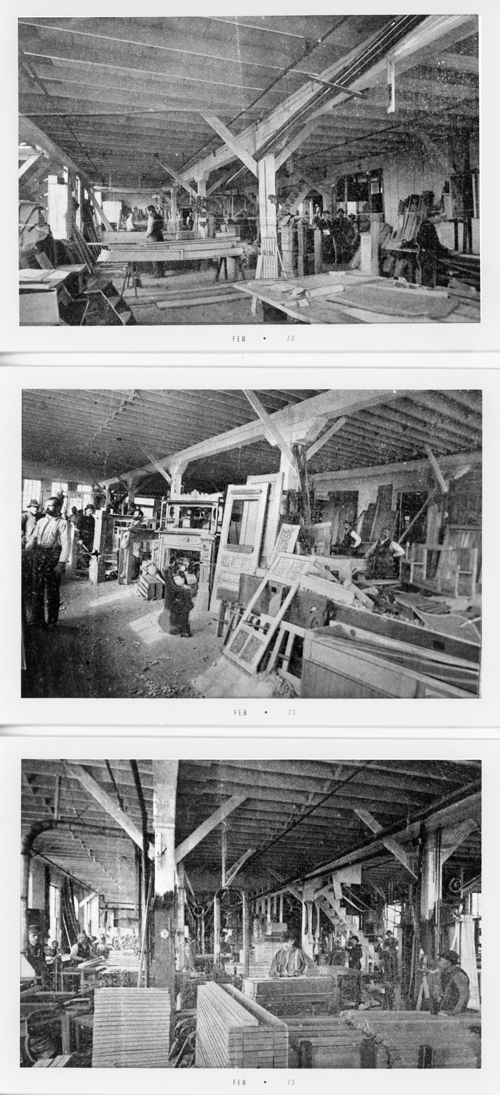 From top to bottom: Stairway department, hardwood finishing department, doors and windows department
In 1897, the company was planning further expansion when a disastrous fire destroyed the factory.  The owners were determined to rebuild; by the end of 1898, a new factory was erected on the southwest corner of 2nd and Cass Streets with twice the capacity of the old one.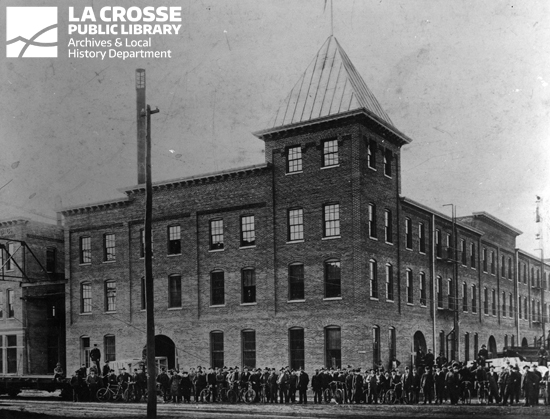 Southwest corner of 2nd and Cass Streets, ca. 1900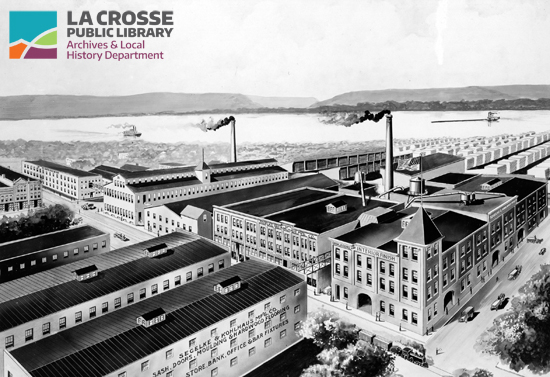 Artist rendering of Segelke & Kohlhaus Manufacturing Company, looking southwest.  Corner of 2nd and Cass Streets in lower right corner.
The company's industrial campus grew to cover several city blocks, including everything west of 2nd Street between Cass Street and Cameron Avenue to the Mississippi River and the west half of the block bordered by 2nd, Cass, 3rd, and Cameron.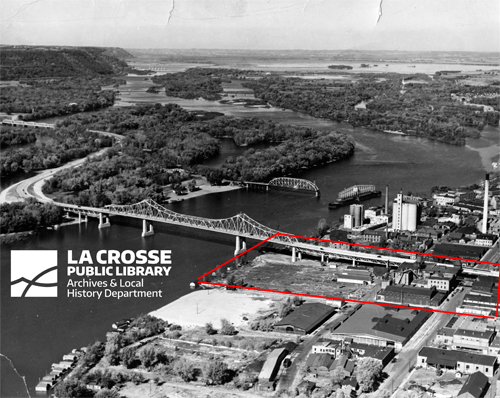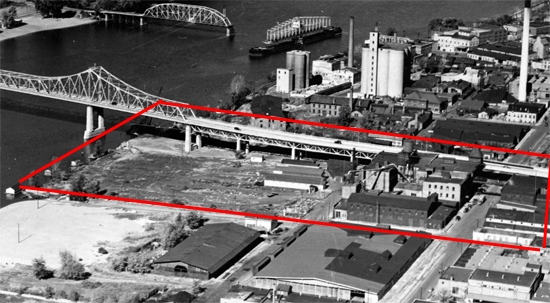 Aerial photo of Mississippi River and downtown looking northwest, 1939, highlighting the Segelke & Kohlhaus Manufacturing Company industrial campus; lower photo is a crop of the original
The company's reputation grew and its customer base expanded to include much of the Midwest.  Promotional material proclaimed, "sash, doors, mouldings, stairwork, interior trim, cabinets, commercial fixtures, in fact everything in the line of interior millwork required in the construction of residences, banks, stores, and public buildings of all descriptions.  The Company also specializes in modern store-front construction, such as is installed in all buildings of modern construction."
Segelke, Kutzborksy, and Kohlhaus all died within 6 years of each other, in 1902, 1906, and 1908 respectively.  Second generation ownership carried the company through its very prosperous years in the early 20th century.  At its peak, Segelke-Kohlhaus had about 250 employees.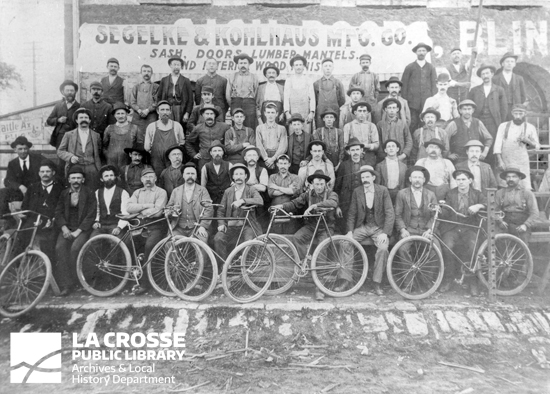 Original factory employees, ca. 1885
A 1927 La Crosse Tribune article celebrating the company's 70th anniversary stated:
The reputation of the Segelke-Kohlhaus Company for turning out a line of products far above average in workmanship is recognized by practically all architects and dealers where production of a certain gauge of finesse is required.  In the majority of cases it has been found that products of the local company demand better prices that their competitors, particularly so on the higher grade of goods such as interior finish made from oak, walnut, mahogany, and similar hardwoods.  It is often heard, where the material of this company is installed, that the buildings were more readily sold.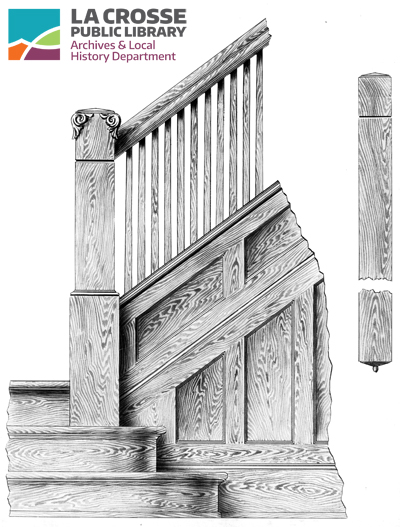 Product photo from LPL Archives collection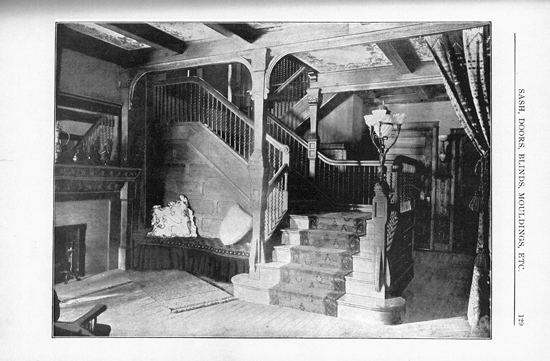 From 1902 product catalog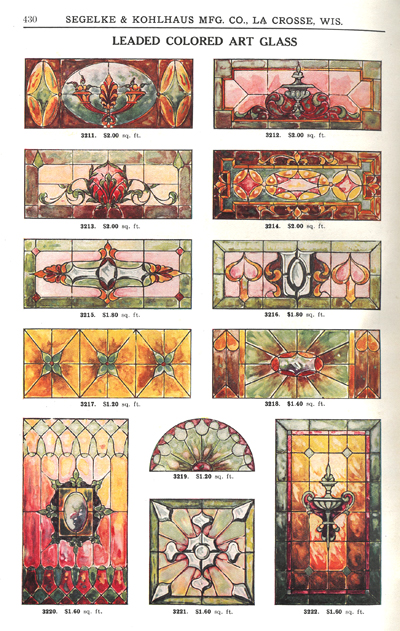 From 1912 product catalog
From 1927 product catalog
In the 1910s, the company began looking for new markets for its products, establishing branches in Chicago, Milwaukee, and Detroit.  These consisted of warehouses to store the unfinished work that was shipped from La Crosse and a small factory that employed 20-30 workmen.  The craftsmen completed the work that arrived from La Crosse and produced whatever finishing millwork that was required.
Beginning with Prohibition in 1919, which hit La Crosse particularly hard given its prominent brewing industry, and continuing through the Great Depression, demand for luxury, high-quality millwork and interior finishes dropped off precipitously.  Parts of the sprawling campus began to close, many employees were laid off, and the different departments began to consolidate.  During World War II, factory production was converted to supply the war effort.  Technology changes and new methods of construction following World War II lessened demand for Segelke-Kohlhaus custom products even further.   
The 1950s brought substantial financial troubles.  Older stockholders wanted out; the company bought these shares to hold as capital or sell to young employees.  The company was in considerable debt and in 1959, ninety-three creditors sued the company. After a brief stint under Chapter 11 in which the company tried to continue operation, the Segelke & Kohlhaus Manufacturing Company was declared bankrupt in 1960.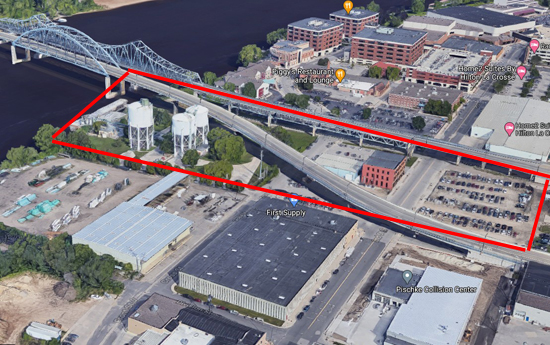 Area once occupied by Segelke & Kohlhaus Manufacturing Company; Image from Google Streetview.
Only one historic building remains standing: the Segelke & Kohlhaus office building and glazing department at 610 2nd Street S., seen in the picture above in the middle of the higlighted area and circled in the historic picture below.  It was originally built in 1899 by local contractor James Rawlinson with an addition in 1912 from the Parkinson and Dockendorff architectural firm.  The area is now largely occupied by the Cass Street entrance and Cameron Avenue exit to the Hwy 14/61 bridge across the river, as well as LafargeHolcim, a ready-mix concrete supplier.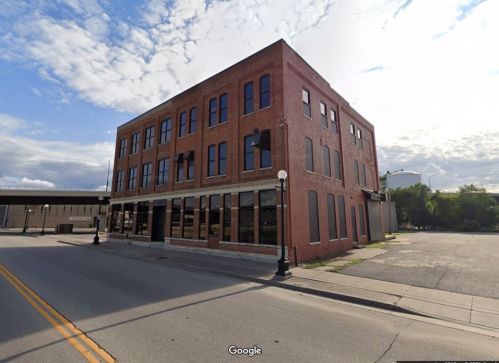 610 2nd Street S., image from Google Streetview