Early La Crosse Major Leaguer
(written by Bill Petersen, Archives Staff)
Probably the best baseball player ever to call La Crosse home was Edward Konetchy, whose major league baseball career lasted from 1907 to 1921. The first seven of those years were spent with the St. Louis Cardinals.

Konetchy was playing for the La Crosse team in the Wisconsin State League in 1907 when St. Louis manager John McCloskey paid a visit to La Crosse to see "Koney" play. Almost immediately, the La Crosse first baseman was signed to a contract, reportedly worth $1,000.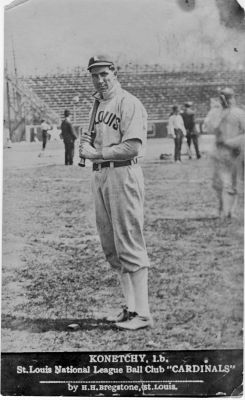 On June 27, 1907 Konetchy played his last game with La Crosse, a 4-0 victory over Wausau in which Konetchy drove in the first run. At that time the La Crosse club played at a ball park located between the present-day streets of Campbell Road, La Crosse Street, and 22nd Street. The local fans came out in force to give the hometown boy a proper send off to the big leagues at what was unofficially dubbed Konetchy Day at the park.
When he stepped up to the plate for his first at bat, the crowd greeted him with thunderous applause and play was stopped while Konetchy received a huge bouquet of roses. Surrounded by his teammates, Konetchy also received a diamond ring, a going-away present that was purchased by his friends and fans.
That same night, about 200 people gathered at the Milwaukee Road depot to see their hero off. Konetchy was proudly wearing his new diamond ring and had one of the roses from his bouquet neatly placed in his buttonhole. At the train station he was also inundated with several boxes of cigars.
Eddie Konetchy died on May 27, 1947 at his farm in  Fort Worth, Texas. He was 61.