1948 Washburn-Onalaska Quizdown
(written by Bill Petersen, Archives staff)
In October of 1948, a new quiz show designed for area students in grades four, five, and six hit the airwaves of WKTY radio. The show was called "Quizdown" and it was broadcast from the auditorium of the Washburn School, which was located at 8th and Main streets. WKTY was the newest radio station in the city having begun broadcasting just five months earlier. The La Crosse Tribune was a co-sponsor of the show.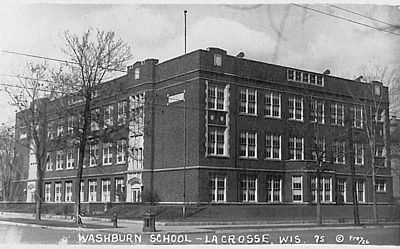 Quizdown was aired on Saturday mornings and featured teams from two different area public or private schools competing against each other. Each team consisted of two fourth-graders, two fifth-graders and two sixth-graders from the school. The unique thing about Quizdown was that the questions were also supplied by local students in grades 4 through 6.
The first Quizdown show pitted Washburn against Onalaska. Students on the Washburn team were Sondra Knutson, Barbara Graff, Wayne Gates, Jimmie Lienlokken, Sharon Boisen and Suzanne Muldron. The Onalaska team featured Dennis Madigan, Carol Dolbier, John Tall, Beverly Ingalls, Emily Berg and Scott Kneen.
Fellow students, parents and teachers filled the Washburn auditorium to support their school's team. John Hancock was the Quizdown announcer and Ralph Willey was the Quizmaster. Wisconsin State Teachers College instructor Ernest Gershon was one of the judges.
About the only problem with the initial airing of the first Quizdown program was the difficulty of some of the questions submitted. Even Quizmaster Willey pleaded over the radio that next week's questions should be more general in nature. Here is a list of some of the questions. Remember, this was 1948!
Who won the first game of this year's World Series?

For what two kinds of fish is Norway famous?

What is the tallest plant in the world?

What is green and white coal? (Quizdown answers are at the end of this article)
At the end of the half-hour program, Washburn had won the first Quizdown by a score of 500-275. The score had been tied at 200 at halftime. The winning team received a framed Rand McNally atlas of North America and Mexico. In addition, each team member received an 8 x 10 photograph of themselves participating in Quizdown.  The Quizdown program ran on WKTY for about six months.
Answers: 1. Boston Braves; 2. Cod and herring; 3. Kelp; 4. Wood from the forest and electricity.