2019 Dark La Crosse Show
(written by Scott Brouwer, Archives staff)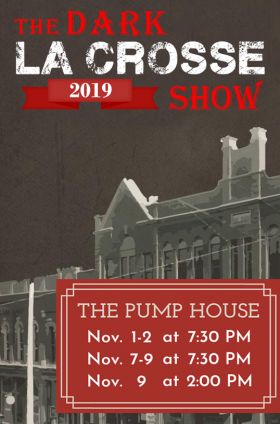 WHAT:  The Dark La Crosse Show
WHERE: Pump House Regional Arts Center, 119 King Street
WHEN: November 1-2 & 7-9 at 7:30 PM, November 9 at 2:00 PM
TICKETS:  $15, General Admission. Tickets are on sale now, available in person at the Pump House box office (119 King Street), by phone at (608) 785-1434, or online at the Pump House box office. Tickets will also be available at the door, if available, but demand will be high, so please purchase your tickets in advance.
FEATURING: Luke Thering, Michael Scott, Jess Witkins, Darrell Ferguson, Kelly Krieg-Sigman, and Barry McKnight.
SPONSORS: Stifel Financial, Gerhards/First Supply, State Bank Financial, La Crosse Tribune, Associated Bank, and G.E.C.U.
The La Crosse Public Library Archives is proud to present a new production of the popular Dark La Crosse Show which will open at the Pump House Regional Arts Center on November 1, 2019. The show is scheduled to run November 1-2 & 7-9 at 7:30 PM, with a 2:00 PM matinee on Saturday, November 9. Tickets are now on sale at the Pump House box office. The unique production, performed in the style of an old-time radio and variety show, features all-new exclusive stories, period-appropriate live music, and a multi-media visual experience heavy on archival photographs.  
Local talent will recreate true crime stories from La Crosse's past including the tragic death of a La Crosse police officer at the turn of the 20th century, a cancelled wedding because of an ex with a gun, George Brooks and his criminal-tracking bloodhounds, and the life of a celebrated recluse with a mysterious past.  
See below for photos and La Crosse newspaper headlines teasing some of the content of this year's show.