Trane Tea Room Hosted La Crosse Society
(written by Anita Taylor Doering, Archives Staff)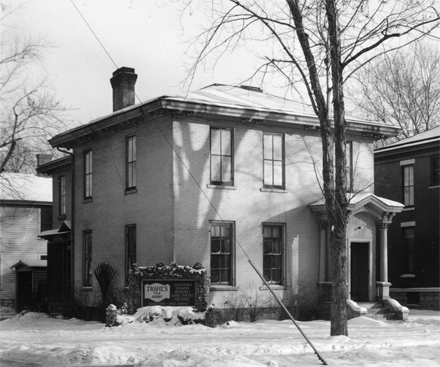 The Trane Tea Room was located at 205 So. 7th Street in La Crosse from 1931-1950
Recently the Archives received a wonderful essay written by Irene Kiefer about the Trane Tea Room as well as some Trane/Hansen family photo albums.  Irene was lifelong friends with the family.  Here are some highlights. 
Emma Schnick and Ernest Trane began a mutual friendship near the corner of 4th and Jackson streets by meeting in the morning on the way to their respective work establishments.  Emma, the daughter of a German immigrant, worked as a young woman for the La Crosse Steam Laundry.  Ernest, the son of Rasmus and Christine Trane who immigrated from the Tromsø, Norway, area, worked for his brother's plumbing shop.  Perhaps you've heard of The Trane Company?  Ernest kept the financial books, collected payments, and delivered supplies with his favorite horse "Jim." 
This friendship on Jackson Street led Emma and Ernest to walk down the aisle and say "I do" at the German Lutheran Church in 1890.  Ernest continued to work for the James A. Trane Company and he and his wife Emma raised the three children who survived childhood, George, Ella and Minnie.
Emma was an excellent cook and baker and taught these skills to her daughters.  The family rented several homes but when they moved to 912 Cameron Street in the early 1900s, a neighbor, Mrs. George Hale, stop and asked if they would bake for her.  Soon after, a stranger stopped by and asked if this "is where the baking is done" as the intoxicating aroma drifted into the street.  Seeing some demand for baked goods, the family made a decision to give it a try as a business.
Ernest quit his job with his brother and began managing the new venture, dubbed the Trane Home Bakery.  Space for the store was rented from John E. Langdon at 610 Main Street and this building still stands today.  The addresses have changed slightly since 1911, but it was the middle store in that three-store front building that is now vacant.  The family lived in the upstairs and the rent came to $65 a month. 
Mother Emma prepared bread and coffee cakes, and daughters Ella and Minnie made cookies and cakes while George helped with the other work.  Typical prices for the day were bread 10 cents, nut bread 12 cents, coffee cakes 10 cents, fruit filled coffee cakes 15 cents, donuts 15 cents a dozen, cookies 10 cents a dozen.
Father Ernest died in 1916 in his early 50s and the tight-knit family continued on in the bakery business until 1923 when the Atlantic & Pacific Tea Store (later called A & P Grocery Store) offered the building owner Langdon a higher rent.  The surviving family decided to find another location but one that was larger so they could take on boarders as well.
A move to 811 Vine Street allowed them to start a restaurant, serving their boarders plus others who wanted meals, particularly on Sunday evening.  Rent here was $45 a month.  Daughter Minnie came up with the name "Trane Tea Room" from another business in town that had failed.  She also made a study of tea rooms and read a book on menus and decorating themes.  In the early days, meals were priced about 50 cents with a Sunday dinner costing 75 cents.
Elmer "Al" Hansen came onto the family scene in 1929 when he was sent by a Mrs. Anderson to the tea room to consult with the Trane family on the home's décor.  Al and Minnie fell in love and married in 1930.  Al worked for the Trane Company but also managed the business.  When the house Mrs. Anderson owned at 205 So. 7th Street became available, she offered it to the Trane family for their home and tea room.  On June 16, 1931, the Trane Tea Room had a new location.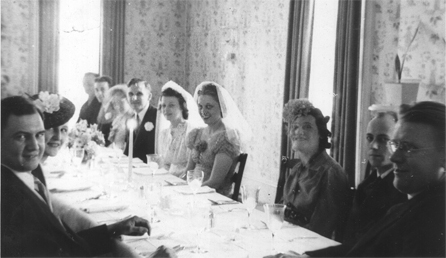 Above is pictured the Lohmueller-Kotnour wedding brunch held at the Trane Tea Room, May 7, 1940, courstey of Nancy Kotnour
The Tea Room became a popular place to hold wedding dinners and receptions.  Minnie recalled that one Saturday, they hosted seven weddings!  Many socially affluent women liked to hold parties and entertain at the Tea Room, like Helen Stellingware, Helga Gundersen and a Mrs. Olberg.
George died in 1947 in his early 50s and with Emma's failing health, the decision was made to close the Trane Tea Room in 1950.  The home was sold and with it went "a legendary place to dine for genteel society."
Emma Trane died in 1957; Ella passed away in 1980; Al in 1986; and Minnie in 1993.  The old house at 205 So. 7th Street was sold by Ella Trane and Elmer Hansen in 1962 to Consolidated Properties, Inc.  This company demolished the old house in 1964 and constructed an office building in its place.