The La Crosse Public Library Archives has a rich and diverse collection of manuscripts, public records, and other archival materials available to researchers. Published materials will not be found on these lists; use the search catalog button in the upper right to find those materials.
Archival Collection Subject Areas
Use the online guides (finding aids) for these collections to identify materials you'd like to view in person in the Archives reading room.You will not find published materials such as books listed here. For those, use the select the search catalog radio button in the upper right part of the screen and enter your search term(s) and hit enter.
These guides are also available online as part of the University of Wisconsin's statewide finding aids database:
Tip for locating items in collections:

Use the search box in the upper right portion of the screen to search these guides by keyword. To search published materials, such as books, chose the radio button for catalog first, then enter your search term(s).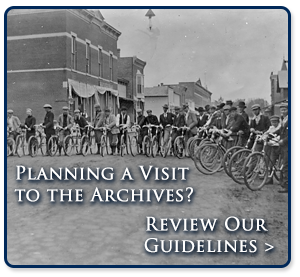 The La Crosse Public Library Archives is looking for community members to share their stories to add to our local historical record. The ongoing public health crisis due to the spread of COVID-19 impacts La Crossians as much as the rest of the world.  
How has your daily life changed? What precautions are you taking? How are you coping? This survey is meant to act as a journal entry. We invite you to use it cathartically, or for documentation purposes; it is up to you. You do not have to identify yourself, it can be completely anonymous if you would like. 
If you don't wish to submit a survey at this time, the Archives' staff encourages you to keep diaries and journals during this tumultuous time. Write letters to yourself. Create documents that can last into the future. And later, you can consider donating a copy to the Archives. 
Thank you for contributing to our local history. 
Survey link: https://forms.gle/uodbs2ZzrGdp38yf6
------
Khaws zej zog cov lus   |   Qhia txog koj zaj dab neeg   |  Koom tes ntxiv (dab neeg) rau peb lub zos cov keeb kwm
Lub tuam tsev qiv ntawv thiab khaws ntaub ntawv keeb kwm hauv La Crosse (The La Crosse Public Library Archives) tab tom nrhiav pej xeem los qhia lawv zaj dab neeg mus ntxiv rau peb lub zos cov keeb kwm. Tus kab mob COVID-19 nov ua kev txhawj xeeb rau lub zos La Crosse ib yam li lwm cov teb chaws.  
Koj lub neej puas pauv txawv tom qab tus kab mob COVID-19 tshwm sim? Koj ceev faj tiv thaiv tus kab mob nov li cas xwb? Koj tswj koj tus kheej li cas? Peb caw koj sau txog koj kev nyob teb cov lus noog sauv tuaj rau peb. Nyob ntawm koj pom zoo los tsis pom sau koj lub npe tsis ua cas.  
Yog tias koj tsis xav teb cov lus hauv daim ntawv noog tam si no, cov neeg ua huaj lwm tim La Crosse Public Library Archives txhawb kom koj sau koj cov lus tseg cia kom koj txhob hnov qab lub sij hawm txhawj xeeb nov. Khaws cov ntaub ntawv koj sau cia es seb lwm hnub koj xav no, koj mam muab luam pub rau La Crosse Public Library Archives. 
Ua tsaug koj koom tes ntxiv koj zaj dab neeg rau peb lub zos cov keeb kwm. 
Daim ntawv noog: https://forms.gle/Wo18FwbPLnReEFk18
------
Documentando las voces de la comunidad   |   Compartir sus historias   |   Contribuir a nuestro registro histórico local
Los archivos de la Biblioteca Pública de La Crosse están buscando miembros de nuestra comunidad que nos compartan sus historias, para luego ser agregadas a nuestro registro histórico local. La actual crisis de salud pública a causa de la propagación del COVID-19 afecta tanto a los La Crossians como al resto del mundo. 
¿Cómo ha cambiado su vida diaria? ¿Qué precauciones está tomando? ¿Cómo lo está enfrentando? La encuesta está diseñada para usarse como un diario. Le invitamos a usarlo catárticamente (descarga de emociones y/o pensamientos) o con fines de documentar información; depende de usted el uso que le dé. Usted no tiene que identificarse, puede ser completamente anónimo, si así lo desea. 
Si en este momento usted no desea realizar y/o enviar una encuesta, el personal de los archivos le invita a mantener diarios durante este tiempo agitado. Escriba cartas para usted mismo y cree documentos que puedan ser usados en el futuro. Más adelante, podrá considerar la posibilidad de donar una copia de estos a los archivos de la biblioteca. 
Muchas gracias por contribuir a nuestra historia local. 
El enlace de la encuesta es: https://forms.gle/6Am4CKpCPd2Z9F9P9