The One and Only Sunrise Drive Arts Festival
(written by Bill Petersen, Archives staff)
The Sunrise Drive Arts Festival sounds like it might have been some major art show in California of Florida. It was actually an art show and competition for kids that took place in La Crosse on August 16, 1962 at the residence of Donald and Louise Treangen, 2606 Sunrise Drive.
The festival was the brainchild of Mrs. Louise Treangen and her next door neighbor, Mrs. Mary Bray, 2612 Sunrise Drive. The two thought the festival would give the neighborhood kids something to do between the closing of the city playgrounds and the start of the new school year.
Kids ages 3-13 in three age groups competed for prizes that were bought with money raised by some of the kids in the neighborhood. Susan Przywojski, Kathy Lien, Laura Keeler, and Lynn and Julie Treangen pulled a wagon around their neighborhood filled with cool drinks and popcorn, selling their wares to raise the needed funds.
Mrs. Mae Hicke and Mrs. Ruth Canfield were selected as judges, primarily because they did not have any children entered in the festival. Drawings, paintings, kits and crafts were shown. No names were visible on any of the artwork to keep the judging impartial.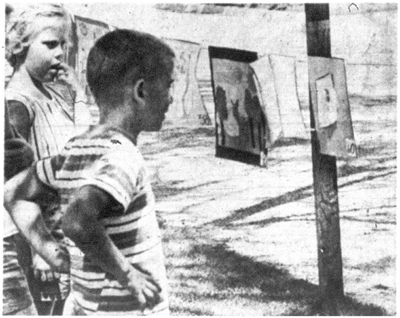 (Young art critics)
The crafts and kits were laid out on tables and the paintings and drawings were hung on wires suspended between trees in the Treangen yard. The wind whipped around the artwork suspended on the wires, making judging difficult, but in the end, the following winners were announced:
David Bray was the winner in the age three to five category while Paul Przywojski was second. In the six through nine age division, Mary Tracy placed first and Daniel Przywojski came in second. Don Hagg took top honors in the ages 10 through 13 category while Ray Conners was second. Steve Traaen, 8, won the kits division and Rhonda Doely was the winner in the crafts division.