Guilty Soldier on the Run
(Excerpted from the Dark La Crosse Tour, research by Bill Petersen, text by Michael Scott)
122 S. 5th Ave., just across the street from the Hollywood Theater, was the site of Fifth Avenue Buffet and the favorite hang out of PFC Joe Goins of Company F, 9th Infantry, 2nd Division. He was from Benton, Arkansas and might have been a great soldier if not for his incredibly short fuse.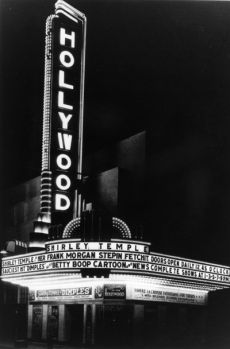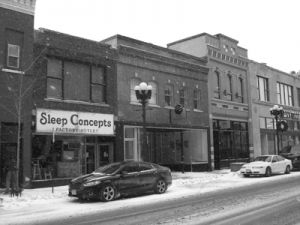 (Hollywood Theater on 5th Ave, 1936)           (122 5th Ave. South [Sleep Concepts], 2015)
On May 9th, 1943, Goins got in argument here with Private James Woodward of Ruby, South Carolina. Both men were being trained for combat at Fort McCoy. As the altercation escalated Joe Goins pulled out his "Dallas Special", a small, non-regulation knife that could easily be concealed up one's sleeve, and stabbed James Woodard. As Woodard lay in a pool of blood, Goins retreated out the door.
After flagging down a woman near 4th and Jay, Goins asked to be driven . . . anywhere. The woman must have noticed he had blood on his trousers because she drove him to St. Francis Hospital, now Mayo Health System.  He arrived at the very same time as his victim, James Woodard. Goins panicked, ditched his knife, and ran past the St. Rose Convent. He knocked on the door of the first residence he came to, the St. Wenceslaus Catholic church rectory, and asked to use the phone to call a cab.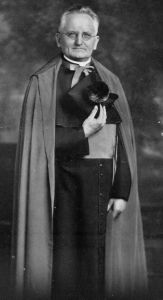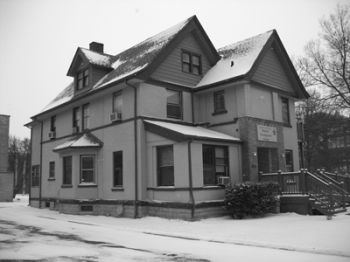 (Father Cech, 1948)          (Father Cech's residence, now Viterbo University building, 2015)
A taxi driver from the City Cab Company responded to Father Cech's residence and was surprised when a GI hopped in the back and told him to "just start driving."  The driver had almost reached Onalaska when he blurted out, "Stop, right here. This will do fine. Drop me off right here." It was the Willow Inn.  After the driver spotted the blood on Goins' trousers, he called the police to report the strange behavior of his rider.
Sgt. Leo Kihm got the call. He gathered Cy Delaney, the part owner of the Fifth Avenue Buffet, in order to identify the assailant. Cy Delaney knew Joe Goins well. Just eight days earlier, Delaney had to subdue Goins who was involved in fight with another soldier. When the men arrived at the Willow Inn, Joe Goins calmly said, "You've got me.  I'm the one you're after."
Goins was put in jail and Army officials picked him up the very next day. No one knows what happened to him next, certainly a dishonorable discharge and likely some hard time in Leavenworth. Joe Goins' horrific temper might have prolonged his life. The rest of his infantry would see the Battle of the Bulge. America would suffer over 80,000 casualties. 19,000 dead. 47,500 soldiers wounded and 23,000 missing.  It was the bloodiest battle of World War II.