Mother Nature: Setting Records in La Crosse
(written by Carla Swerman, Archives staff)
Weather is undeniably one of the most popular topics of conversation.  We regularly question what weather is in store for us in the next several hours, days, or even weeks.  We often complain about it.  And, on occasion, we wonder if we've just experienced an all-time high or low.  Thanks to the detailed documentation by the National Weather Service (NWS) here in La Crosse, we can easily determine that.  Since the first weather observation was taken in La Crosse in October of 1872, the NWS has been tracking Mother Nature's feats.
For example, during the past holiday season, we experienced a 13-day stretch with temperatures below 20°, which also occurred in 1918, 1982, and 2000. That 13-day stretch (December 25, 2017-January 6, 2018), with an average temperature of 0.8°, was the coldest 13-day period since Feb. 6, 1966. On the other hand, temperatures skyrocketed to 65° on Nov. 24, 2017 (Black Friday) and surpassed the 1931 record of 62°.
Here are some other extreme records that may be of interest:
TEMPERATURE
Hottest Day: 108° on July 14, 1936 as well as July 13, 1995
Coldest Day: -43° on Jan. 18, 1873, and -42° on Jan. 21, 1888
Warmest Month: July 1936 with a mean temperature of 79.5°
Coldest Month: Jan. 1912 with a mean temperature of -1.1°
Consecutive Days with Temperatures below Freezing (32°): 52 days from Dec. 30, 1978 to Feb. 19, 1979
SNOW ACCUMULATION
Snowiest Season:  1961-1962 (While total snowfall for the 1958-1959 winter reached 78.3", the 1961-1962 winter claimed .4" more for a total of 78.7".)
Earliest First Inch of Snow: 1.2" on Oct. 18, 1991
Latest Trace of Snow:  0.2" on May 28, 1947
Snowiest Day: 16.7" on Dec. 7, 1927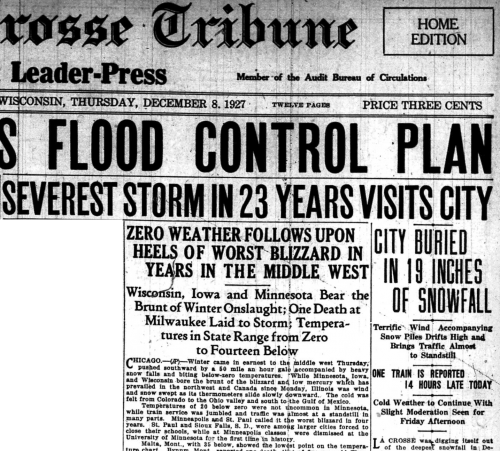 Even though this headline exaggerates the 16.7", it was a storm of great proportions.  The article reports that a trolley singlehandedly rescued three trucks that were stuck in the high snow drifts. Train traffic was also significantly slowed.   Rumor was that it took one Burlington train 2 ½ hours to travel from Grand Crossing on the North side to the South side depot (four miles), even with assistance from five other engines.  It was believed that the slowed train traffic might result in fewer available Christmas trees.
Largest Two-Day Snowfall:  18.8" on March 5-6, 1959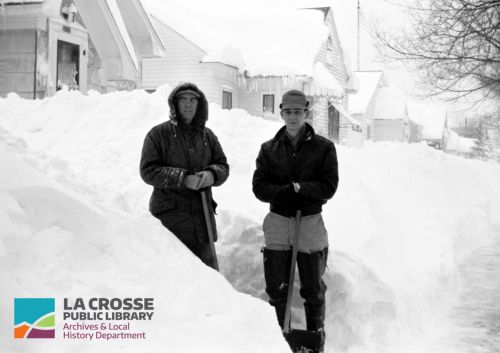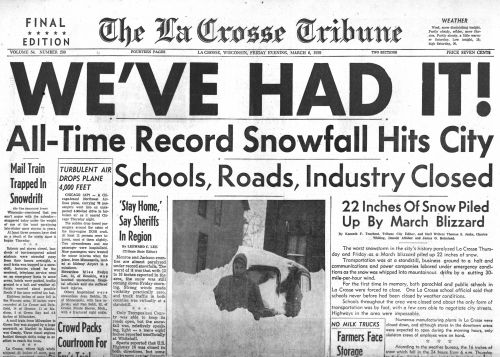 The 1958-59 winter is one of the snowiest ones on record.  Residents had  truly "HAD IT!" by March 5-6 with a reported dumping of  18" at the La Crosse airport and 22" at the Southeast end of the city.  The article reports that there were not enough snowplows to manhandle the snow, and, while Highway 14/16 were cleared to the county lines, no other highway travel was possible.  In addition, this was the first time that La Crosse closed all of its public and parochial schools.
RAINFALL
Wettest Year: 1881 with 44.74"
Driest Year:  1910 with 16.77"
Rainiest Day:  5.55" on Sept. 6, 1884
TORNADIC EVENTS
Worst Tornado: an F4 (An F5 is the most severe.) on June 6, 1906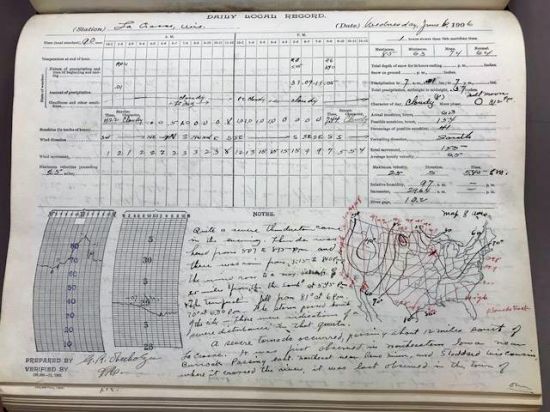 According to the weather observer's notes, this early evening, 55-mile long tornado started near Burr Oak , IA, passed through Reno, MN, crossed the Mississippi  at Stoddard, and was last observed in Portland about twelve miles south of La Crosse in the Town of Washington.  Traveling 25 miles per hour, the tornado killed four persons, injured 18, and resulted in $70,000 worth of property loss.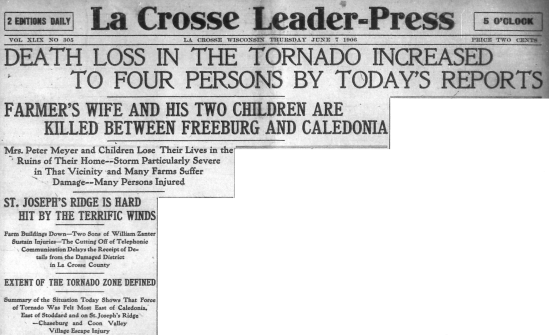 This account in the La Crosse Leader-Press verifies the death toll. A relief train that started in Stoddard and continued along the path of the storm found one Stoddard farmer dead in the road.  Also among the deceased were two brothers, aged 12 and 15, from St. Joseph's Ridge as well as a woman residing between Freeburg  and Caledonia, MN.
If you are interested in discovering more of Mother's Nature's local "claims to fame," you can click on this link to the National Weather Service.   To see photos and/or newspaper articles of extreme weather events, visit the Archives Department at the La Crosse Public Library at 800 Main St.  Daily weather observations are also available from 1872-1947.