Footsteps of La Crosse Fall tours
(written by Jenny DeRocher, Archives staff)
This September, join Archives staff member Jenny on history tours in four La Crosse neighborhoods: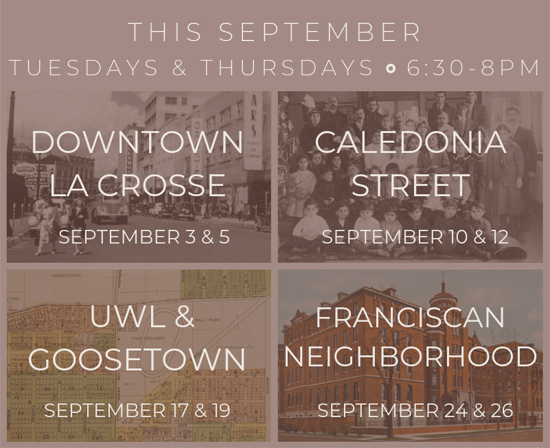 Due to popular demand, you will have two chances for each tour.  All tours are free and open to the public. Register here to find out meeting locations.  Tours are from 6:30 – 8pm every Tuesday and Thursday.
These tours will tell the story of how class, culture, and architecture intertwine on La Crosse's city streets. Each tour has its own focus.
Downtown (Sept. 3 & 5) – Learn about the ways that downtown has shifted from the mid 1800s through the 20th century, when many buildings were torn down for commercial development and because of gentrification efforts like Urban Renewal, which directly affected downtown after the 1965 flood.
Caledonia Street (Sept. 10 & 12) – This was the North Side's very own business district, different from La Crosse's downtown district.  This tour will look at why that contrast existed: who lived on the North Side? Who frequented the North Side?  What were the different waves of immigration that gravitated to the North Side?
UWL & Goosetown (Sept. 17 & 19) – Ever wonder what existed on the land that UWL now occupies?  This tour looks at how the current UWL area and changed over time, from a prairie stewarded by the local Ho-Chunk to a German working-class neighborhood full of geese and cows to the ivory tower.  Even in just the last 5 years, numerous historic working class houses have been demolished, showing a continuing process of gentrification pushed by the university.
Franciscan Neighborhood (Sept. 24 & 26) – The La Crosse Franciscan Sisters of Perpetual Adoration have been in La Crosse since 1871. This tour explores the unique neighborhood that contains the St. Rose Convent, Mayo/Franciscan Healthcare System, and Viterbo University.
Please register for tours at www.footstepsoflacrosse.org to reserve a space on the tour. After registering, you will be contacted with the meeting location.  You can also contact the Archives by phone at (608) 789-7136 or by email at archives@lacrosselibrary.org for more information or help registering.