La Crosse Took to the Ice
(written by David Kranz, Archives staff)
For 150 years and more, people of La Crosse have been going outside in winter to ice skate. An 1859 La Crosse newspaper reported that ice skating was "all the rage" among citizens in December that year.
From the early 1900s into the 1960s, local sports clubs and later the city were clearing ice at the Pettibone Lagoon for skating – until this happened: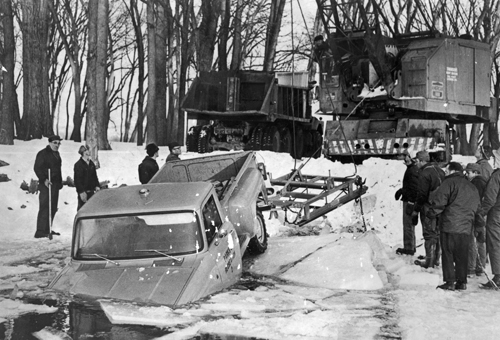 A city truck falling through the ice at Pettibone Lagoon may have signaled the end of La Crosse maintaining an ice skating space there. 
The history of providing a skating rink in the city goes back at least as far as the 1920s. By the 1930s, the city parks commission was offering 10 rinks around town for residents' wintertime fun.
How many people took to the ice? Well, a Parks department annual report covered in the La Crosse Tribune of Jan. 1, 1937, said the tally was over 100,000 people:
"Ten ice-skating rinks were maintained by the city of La Crosse during the season of 1935-36, located at West avenue and Jackson, Fifth and Hood, Hogan and Roosevelt schools, Kane and St. Andrew street, 14th street and South avenue, Copeland park, Pettibone lagoon, 16th and Vine street, and at Central high school.
"Four new warming huts were erected at the Roosevelt, 14th and South avenue, 16th and Vine, and St. Andrew and Kane street rinks. The last rink is new, being used for the first time in 1935-36. These extra huts were erected because of the increasing attendance, which during the 1935-36 season rose to 105,343 skaters, by as near a count as possible."
In 1941, national speed skating championship events were held on the Pettibone Lagoon.  A La Crosse Speed Skating Club helped people train for competitions.
The city's Recreation department held organized tournaments for local young skaters into the 1960s.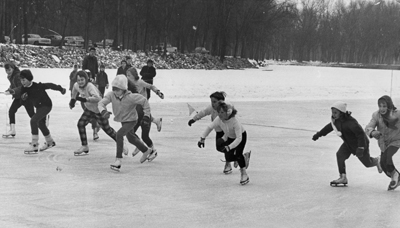 These young women participated in a race event at Pettibone Lagoon around 1960.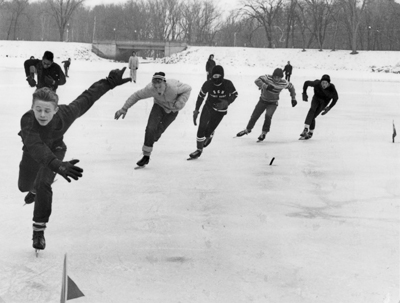 One young man shows off his form and leads the pack in this speed skating race on the Pettibone Lagoon, the bridge identifiable in the background. 
Nowadays we can visit La Crosse's Green Island Ice Arena, built in the 1980s, during open skate or for a program offered by the Parks, Recreation and Forestry Department such as figure skating, curling or youth hockey. Scheduling at the rink is currently overseen by the Coulee Region Chill hockey organization.
We marvel at the skill and grace exhibited by figure skaters on TV, and the precision and teamwork of hockey players – wouldn't we all like to give it a try? 
All photos from LPL Archives, Parks Dept. Series 13