ECHO: Exploring Cultural History Online
(written by Anita Taylor Doering, Archives Staff)
The Winding Rivers Library System has expanded access to unique history materials in local libraries by developing a regional online collection of visual images (photographs and postcards) representing western Wisconsin history and culture.  This project and collection is named ECHO:  Exploring Cultural History Online and is made possible through a 2014 Library Services and Technology Act grant.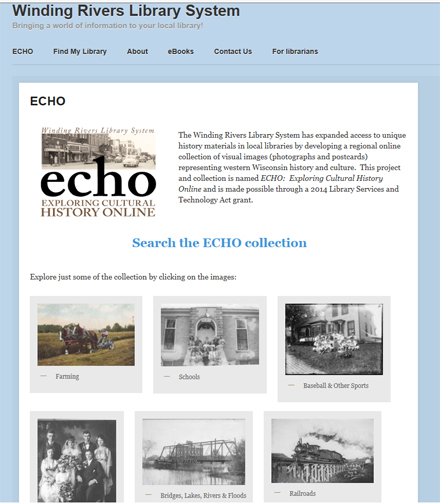 At the opening page, http://www.wrlsweb.org/echo/ you can browse broad categories if you have nothing in particular to search.  The feedback I've heard so far has been overwhelmingly positive for the farming views!
If there is something you want to search instead of browse, click on this link http://echo.wrlsweb.org/jsp/RcWebSimpleSearch.jsp to begin searching.  One major hint is that the box to the right of the 'search for' box defaults to 'content.' I suggest using the drop down arrow to select 'title' or 'abstract' instead.

Other tips for searching the ECHO site:
The best practice when searching is to search within the "abstract"; this will return the largest variety of images that fit your search.
If you are searching for something specific (i.e. 1912, automobiles, Vernon County, or Kickapoo River), please use the correct Subject category. This will limit your search and retrieve only the images that fit your criteria.
Subject Topic- Use these terms to search Subject Topic.

Subject Geographic- This field holds the names of rivers, bluffs, valleys, etc. (i.e. Kickapoo River)

Subject Country- United States.

Subject State- Wisconsin.

Subject County- Search by county.

Subject City- Use this to find a specific city, town, village, or township.

Subject Temporal- Dates are held here. They can be a specific year (i.e. 1912), or they can refer to a decade (i.e. 1910s)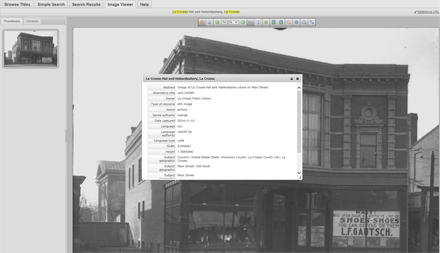 If you want to save an image you find, click on the thumbnail image to bring up the largest image version possible. You can find out the owner and other information about the photo from the viewer toolbar by clicking on the 'i' with a circle around it.  This will give you what is called metadata including the owning library.
In that same toolbar, click on the printer icon (second from the end on the right).

Depending on which browser you are using it will ask if you want to open it or save it. In either event, it will save in the PDF format.  Save it to a flash drive or your hard drive.  If you prefer a different file format to PDF, you will need to convert it by using either an Adobe photo imaging product, a photographic software that supports PDF, or a freeware utility you find on the internet.
Participating WRLS member libraries at this time include Alma Public Library, Arcadia Public Library, Black River Falls Public Library, Blair-Preston Public Library, Cashton Memorial Library, Knutson Memorial Library in Coon Valley, Elroy Public Library, Ettrick Public Library, Galesville Public Library, Independence Public Library, Kendall Public Library, La Crosse County Library, La Crosse Public Library, Lawton Memorial Library in La Farge, Hatch Public Library in Mauston, New Lisbon Memorial Library, Norwalk Public Library, Ontario Public Library, McIntosh Memorial Library in Viroqua, Bekkum Memorial Library in Westby, Whitehall Public Library, Wilton Public Library, Wonewoc Public Library, and Necedah Community Siegler Memorial Library (joining in 2015).
La Crosse Public Library contributed just over 100 images to this site and the resources will continue to grow.