Our Lady of Lourdes
(written by Scott Brouwer, Archives staff)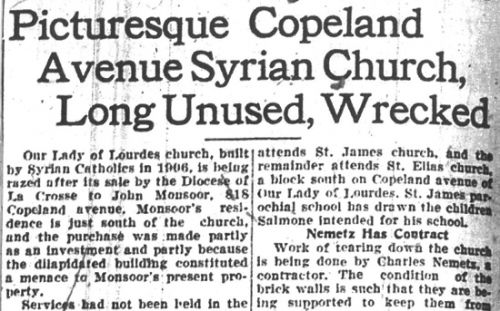 La Crosse Tribune 19 August 1934
In less than 30 years at the beginning of the 20th century, Our Lady of Lourdes Catholic Church went from an exciting new opportunity for Syrian Catholics in North La Crosse to a dilapidated building in such disrepair that it was unceremoniously razed to prevent criminal behavior from disrupting neighboring businesses.  Never heard of it?  Neither had we at the Archives before being asked about its history. 
As noted in a previous blog – Syrians in La Crosse – around 100,000 immigrants from the Ottoman province of Syria (what is now Syria, Lebanon, and part of Jordan) came to the United States in the late-19th and early-20th centuries seeking economic opportunity or fleeing an oppressive government.  The first Syrian immigrants to La Crosse came as "pack peddlers", itinerant salesmen who carried their goods – such as clothing, sewing supplies, and shoes - on their back, eventually settling where they established enough of a customer base to open stores.  Between 1900 and 1910, the Syrian community in La Crosse grew to between 100-150 residents, living mostly on Mill Street – now Copeland Ave. – and downtown.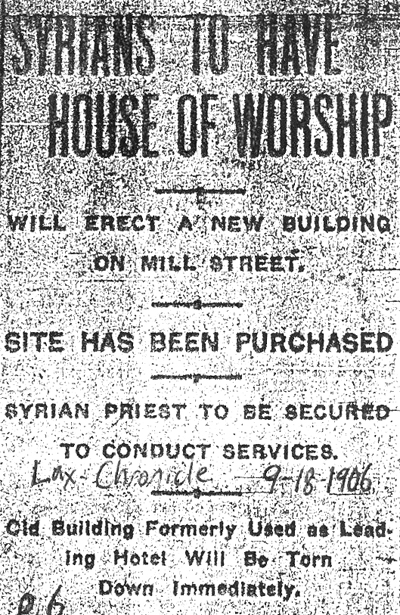 La Crosse Chronicle 18 September 1906
The need for a house of worship arose naturally with the growing population.  A lot in the 800 block of Mill Street was purchased and the existing structure, an 1871 hotel once known as the North Third Street House that was being used as a factory for making banana crates, was torn down.  The community included members who identified as Greek Orthodox and Roman Catholic, yet they came together to build Our Lady of Lourdes and they secured a Syrian priest to serve as their leader.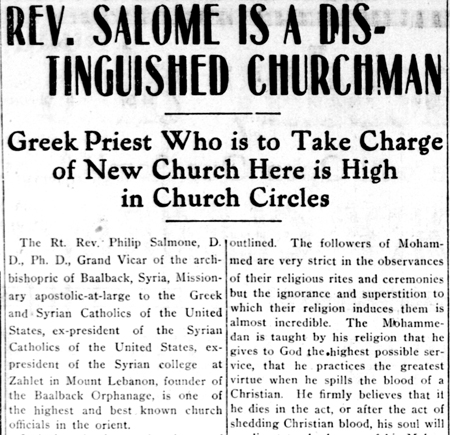 La Crosse Tribune 15 October 1906
The Rt. Rev. Philip Salmone, who had previously served as Grand Vicar of the archbishop of Baalbek, Lebanon and was in the country serving as Missionary apostolic-at-large to the Greek and Syrian Catholics of the United States, was chosen to serve as the first, and what would be only, head of Our Lady of Lourdes parish.  He was in his mid-20s and according to primary sources, spoke fluent English, French, Greek, Latin and Arabic, which would have been an obvious strength for serving a growing, diverse immigrant community in La Crosse.  His greater mission, however, continued to be to visit Syrians and Greeks all over the country and encourage them to organize parishes and build churches.  This would eventually lead to the downfall of Our Lady of Lourdes. 
The cornerstone was laid in early December of 1906, with a large number attending the service conducted by Diocese of La Crosse Bishop James Schwebach, who was assisted Rev. Salmone and Rev. Ambrose Murphy of the nearby St. James parish.  Bishop Schwebach highlighted the rarity of dedicating a Syrian Catholic church in the United States, a point noted in the local newspapers at the time claiming this would actually be the first to be built.  A manuscript in Arabic was placed in the cornerstone, reading:
The Syrian Church of our Lady of Lourdes
In the city of La Crosse, Wisconsin
The land was bought by the hand of the priest Philip Salamoni (sic) on October 1, 1906.
His excellency, Bishop Schwebach celebrated the inauguration and the laying of the cornerstone on December 2, 1906,
                during the pontificate of holiness Pope Pius X, supreme pontiff,
                during the tenure of his excellency, Bishop Schwebach, bishop of the diocese,
                during the presidency of Mr. Roosevelt, president of the United States,
                during the tenure of the reverend Father, priest Philip Salamoni, rightful rector.
                Rev. Philip Salamoni
                                                                                                December 2, 1906
                                                                                                La Crosse, Wisconsin
Copy of manuscript in Arabic placed in the cornerstone of Our Lady of Lourdes on October 1, 1906, courtesy of Diocesan Archives, Diocese of La Crosse. Click image for bigger view and see above for English transcript.
The church was dedicated on April 9, 1908, with services again conducted by Bishop Schwebach, Rev. Salmone, and several other area priests.  Rev. Salmone's address was highlighted by a nod to the unique nature of the new parish, citing the recent visit of Melkite Greek Catholic Church patriarch Cyril VIII to Rome to visit Pope Pius X as an example of how the Greek Orthodox and Roman Catholic adherents of the Syrian community in La Crosse can come together to worship.  He also re-affirmed his dedication to mission work in this country, noting that he would remain in La Crosse until the debt of building the church was cleared up, after which an new priest would be secured from "The Orient" and he would leave for Texas and the Southwest. 
A newspaper account of the dedication drew attention to the grand nature of the new building at 822 Mill Street (now 822 Copeland Ave.) given the comparatively small number of Syrian families in La Crosse, but it also recognized that the community was steadily growing and that the new church had been built with that growth in mind.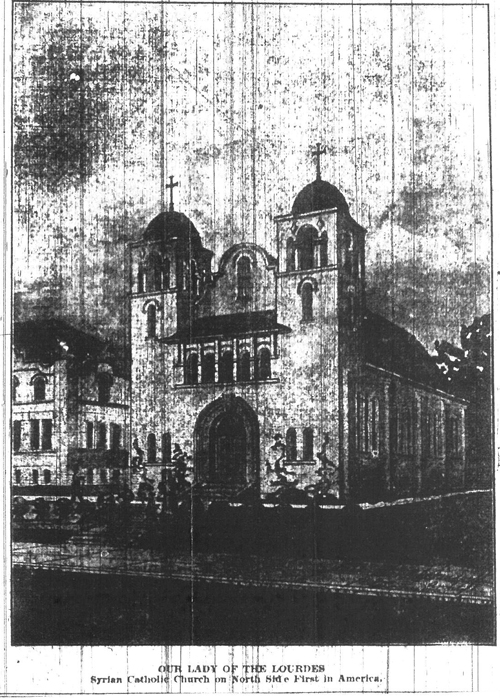 La Crosse Tribune 9 April 1908; click image for full article recounting the dedication
In just a few short years, the promise and hope of that dedication ceremony had already turned sour.  Though newspaper accounts in the intervening years regularly highlighted festivals, weddings, and other celebrations at Our Lady of Lourdes, a 1911 account on the front page of the La Crosse Tribune shone a light on a serious split happening in the church.  Thirteen members dramatically accused Rev. Samone of embezzlement, stating he was "collecting and disbursing the funds of Our Lady of Lourdes Roman Catholic church without rendering statements".  They also noted the irregular schedule of services due to Rev. Salmone's heavy travel schedule of speaking engagements and missionary work.  After petitioning Bishop Schwebach to compel Rev. Salmone to account for the money, these 13 members withdrew from the parish and formed what would become St. Elias Orthodox Church one block south on Copeland Ave.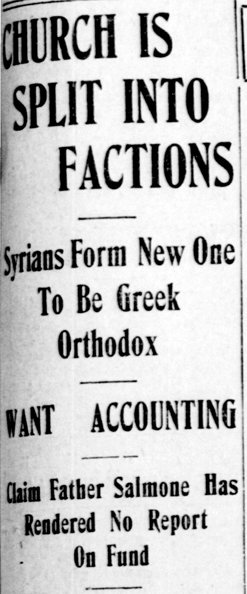 La Crosse Tribune 10 August 1911; Click image for full article, including Rev. Salmone's response to the accusations 
With the 1912 founding of St. Elias at 716 Copeland Ave., an uneasy peace settled in the religious communities of the Syrian population of North La Crosse.  After a follow-up (click HERE to read) to the original 1911 exposé, no further articles appeared in the newspapers regarding the split.  Rev. Salmone continued to lead the parish while also traveling extensively.  This unusual situation is highlighted by a listing in a 1913 social welfare directory:

Just over 15 years after the church was dedicated to great fanfare, Our Lady of Lourdes closed in 1923.  At the time, it was to be turned over to St. James parish for use as a school, but later articles acknowledge that this never happened due to costs of converting the interior spaces.  Rev. Salmone's ill health was also a contributing factor, as his outsized presence never led to others growing into leadership roles.  The remaining congregants of Our Lady of Lourdes became members of St. James parish or the growing St. Elias Orthodox Church.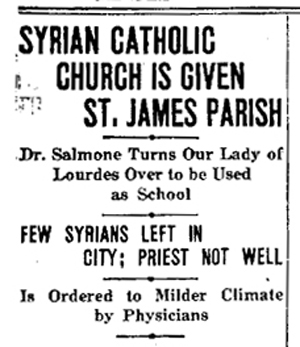 La Crosse Tribune 5 September 1923
The 1934 article announcing that the building would soon be razed highlighted its dilapidated state and that vandals had broken into the building on several occasions.  Much of its original beauty had been lost and the brick walls had been supported to keep them from collapsing.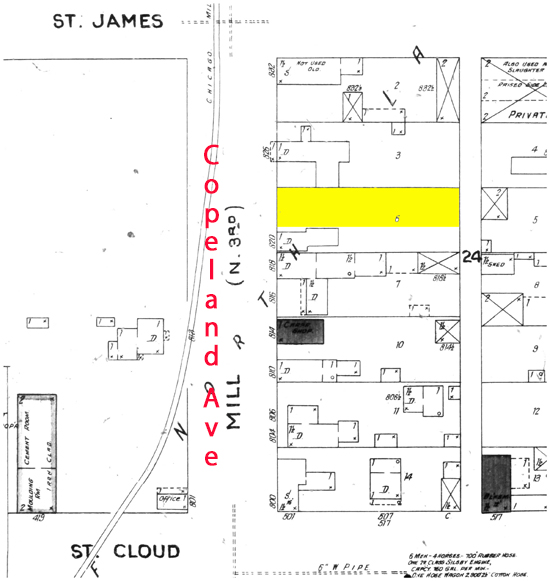 1906 Sanborn fire insurance map - highlighted area is 822 Mill St. (Copeland Ave.), future site of Our Lady of Lourdes; click image for larger view
1944 Sanborn fire insurance map - highlighted area is 822 Copeland Ave., former site of Our Lady of Lourdes (no maps in our collection cover the years it existed); click image for larger view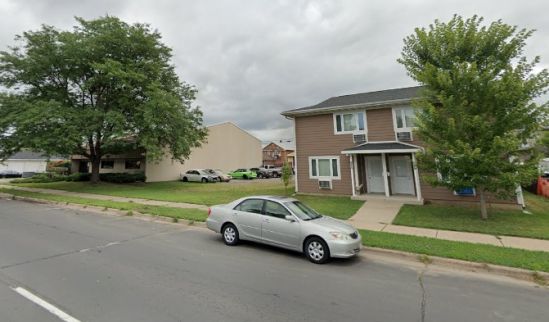 822 Copeland Ave., former site of Our Lady of Lourdes (parking area between buildings).  Building on left is Al's Auto Body, 826 Copeland Ave. 2019 image courtesy of Google Street View
In a La Crosse Tribune article, Rev. Salmone also noted that "there are no longer any Syrian Catholics in La Crosse.  Practically all of them have gone to Toledo, Detroit, or Akron.  There are just two families of our people left here now."  The outbreak of WWI in 1914, with the Ottoman Empire fighting on the side of Germany and the Austro-Hungarian Empire, curtailed further immigration to the United States, obviously slowing the expected growth of the Syrian community in La Crosse when the church was originally built in 1908.  Despite this, descendants of this community remain here, bearing well-known local names like Monsoor, Skaff, Addis and others. 
In listening to a set of oral history interviews from 2002 (courtesy of UW-La Crosse Oral History Program) with descendants of the early Syrian immigrants to La Crosse, only vague recollections of the parish remained even then.  Upon reaching out to the Diocese of La Crosse for more information on this parish lost to history, archivist Father Kurt Apfelbeck said this: "There seems to have been only a few families [at the end].  Seems like money was part of the problem.  [Father Philip Salmone] was also gone a bit raising funds and raising awareness of the Syrian Catholics in the United States.  [He] worked at this Syrian mission for about 16 years, and it failed to continue.  The parish largely was about him, centered on his way of doing things and his personality.  People didn't want what he had to offer.  They didn't like his style, his way of doing things.  They convinced others that he couldn't be trusted.  It was his first parish and he made mistakes.  He came from a different culture and was maybe trying to manage things like priests did back home, and that just wasn't going to work here."