Chipmunk Coulee/Salzer German Methodist Church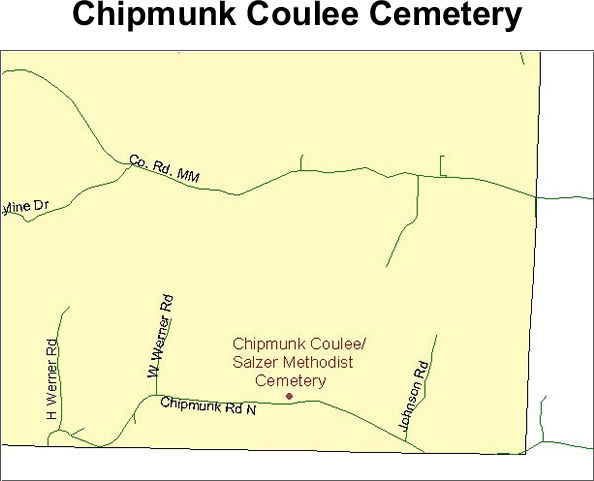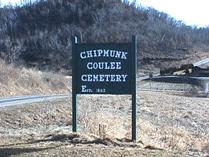 Chipmunk Coulee Cemetery originally was the site of a Methodist Church. The congregation was associated with the Salzer Memorial Methodist Church in La Crosse. From Emil J. Bernet's article titled "Beginnings of the Salzer Memorial Methodist Church" in the La Crosse County Historical Sketches (series 7) published in 1945, described:
the "people in Chipmunk Coulee and on Brecken Ridge [later called Brinkman Ridge bordering La Crosse and Vernon counties] were largely German Bohemians, most of whom were Catholics.
In Mormon Coulee there were chiefly Swiss and in other places there were German Lutherans. These settlers were pious, God-fearing people with religious training in school in youth; but even with this religious background they had been entirely neglected by their churches before this time. There was an occasional priest in the towns who could be called upon to baptize, marry, or bury. The Methodist circuit riders were ready to pray with a penitent sinner under a tree in the woods or on the lee side of a hay stack, and administer all religious rites when necessary. Literally left as 'sheep without a shepherd' by their own churches, there was an immediate response to the earnest, sincere preaching of the gospel according to Methodist principles. Meetings were held in homes and schoolhouse whenever anyone would listen."
While the main La Crosse church began to have regular preaching services in 1858 and a small church building was erected, missionary work outside La Crosse was growing. Revival meetings during the winter season and camp meetings in the summer time to which people came from long distances were popular. Spiritual interest was shown and the preaching of the gospel became more widespread. The missionary societies were established by 1860. These included La Crosse (main church), Brecken Ridge [Brinkman Ridge], Chipmunk Coulee, Mormon Coulee, Burr Oak and Jacksonville (Monroe Co.).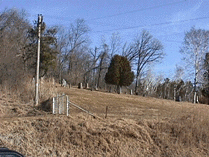 The first settlers arrived in 1855. Several families of the first settlers spent the first winter, an unually severe one, in a small, floorless log cabin which had been erected on a farm. Early family names Starch, Tietze, Paudler, Bendel, Kunert(h), Hieckel, Uhl, Ritschel, Ringel and Lies. Over time, other immigrants came and built houses. A travelling Methodist preacher soon came and looked up the people, who responded to his ministry and gathered in homes for religious services until a church was built. In 1862 a small frame church was built in Chipmunk Coulee at a cost of about $800 on land donated by Jacob (Jakob) Bendel. Bendel is buried across the road from the Chipmunk Coulee Cemetery on land still owned by Bendel descendants, while his wife is buried in the church cemetery.
The obituary of Rosena Lorenz in 1913 said she was to be buried in the Bohner Cemetery. However, there don't appear to be any stones with the Bohner name, so it is unclear how this name is connected with the Chipmunk Coulee Cemetery.
Membership of those belonging to Chipmunk Coulee was eventually transferred to the North La Crosse church. In 1919 North La Crosse and Chipmunk Coulee were abandoned as a charge, and the membership from both of these societies was transferred to the La Crosse church. The resident pastor supplied the pulpit in Chipmunk Coulee until 1929 with the aid of local preachers and retired pastors.
A warranty deed [La Crosse County Register of Deeds, volume 219 page 219] transferred ownership of the cemetery and former church property Otto W. Muenster et al., trustees of the Salzer Memorial Church to the Chipmunk Coulee Cemetery Association for $1 on Aug. 6, 1947.
Search our online cemetery database
Census List Details: