Weverstad-Ferstad Family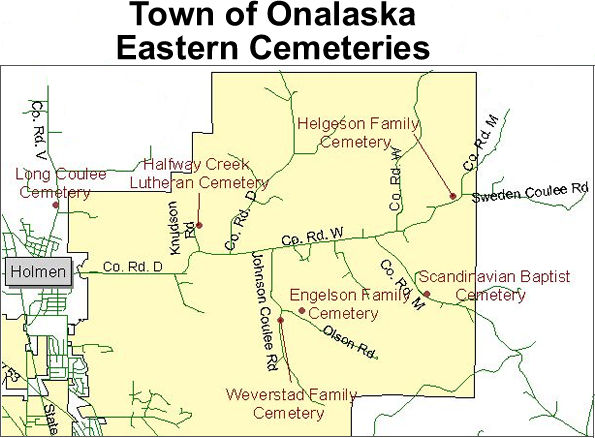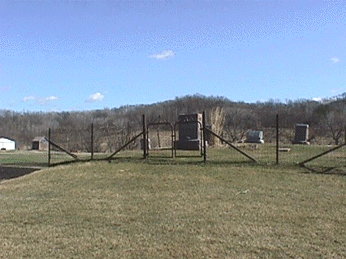 The Weverstad Family Cemetery, is a small rural private family cemetery located on a knoll in north central La Crosse County, Wisconsin. Located east of Holmen near the Halfway Creek community in the Town of Onalaska, the Ferstad and Weverstad families farmed this area known as Johnson Coulee as pioneer Norwegian settlers. It was also called Homestead Cemetery.
 Caroline Gjesme, daughter of Ole Jensen Gjesme and Wilhemena Louise Hansdatter, was born in Tromsø, Norway, in 1854. From 1855 in Tromsø there was a small group of Quakers holding more or less regular meetings for worship. In 1860, this group established a meeting house. However, by the following year, the Tromsø Friends were beginning to talk of emigrating to the United States. Caroline's father, Ole, was a carpenter and had been instrumental in the Tromsø Quaker movement, and had charge of the meeting house there. When she was nine years old, Caroline's family emigrated to America by sailboat in the spring of 1863, a trip that took nine weeks to complete. The Gjesme family homesteaded near Holmen at Halfway Creek.
Because there wasn't a Friends group in the Holmen area, many of the Tromsø Friends became affiliated with the Scandinavian Baptist Church located in Jostad Coulee. Caroline was baptized as a Baptist, and she married Nikoli (or Nickoline) Weverstad, a Lutheran farmer, in 1870. Her older sister Augusta married Lars Ferstad, a fellow Quaker. In 1872, the Gjesmes sold their farm to Nikoli & Caroline Weverstad.
Nikoli died in 1922, and in 1929 Caroline (Gjesme) Weverstad, now a widow, sold the farm. She was survived by four sons and five daughters and 30 grandchildren when she passed away in 1934 at the age of 81 years. She is buried at the Weverstad Family Cemetery along with her husband, parents, some children, and her sister and her husband, along with other family.
Acknowledgements: Many thanks to Assistant Professor Hans Eirik Aarek of the School of Humanities at Stavanger University College at Stavanger, Norway, for sharing his knowledge of the Tromsø Quakers and Ole Gjesme. Also thanks to Judy (Weverstad) Evans for help with the Weverstad Family History.

Search our online cemetery database
Census List Details: