Cemeteries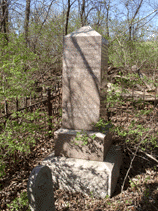 Cemeteries provide a wide range of cultural and social history of our community. With this in mind, we have tried to pull together some history of the cemeteries we know of in La Crosse County. Most histories are based on written documentation, but some are based on oral tradition. We also have written an essay about "lost" white pioneer cemeteries for which we know once existed or for which we have a strong oral history, but that no longer seem to exist. If you have additional information on the history of any La Crosse County cemetery, please let us know archives@lacrosselibrary.org.
Cemeteries created by the Ho-Chunk and their ancestors, many of which have already been disturbed by Western practices and archaeological research are not included here because of concerns of potential further site disturbance. However, archaeologist Robert "Ernie" Boszhardt of the Mississippi Valley Archaeology Center at the University of Wisconsin-La Crosse has prepared an essay on Indigenous and pre-historic burial customs in the Coulee Region to add to this history.
Finding Someone in a La Crosse County Cemetery
Search our online cemetery database to find a grave location. After searching for a person, you may first see results for an obituary citation. Simply navigate the search result tabs below the search boxes to find cemetery results.
Our database does not contain photos of stones, but there are a number available from websites such as the La Crosse Area Genealogical Society (look under "research resources" --> then "cemetery information" --> then "tombstone pictures") and Find A Grave. Another site you might find useful for cemeteries in northern La Crosse County is La Crosse County Cemetery Records.
Using the Map
Migrants and immigrants of various ethnicities colonized La Crosse County in multiple waves over time. One researcher, Robert Wingate, found that after categorizing immigrants into six broad ethnic groups (British-Irish, German, Norwegian, Dutch, French, and Bohemian), it was clear that immigrants purchased different kinds of land and soil for settlement and farming. You may only know your ancestors' ethnicity, or the kind of farm they had through family oral tradition. If this is the case, this map is tailored to help you find the cemetery your ancestor could be buried in, even if you don't know where they lived in La Crosse County.
This interactive map of La Crosse County cemeteries was built for researchers with various levels of information about their ancestors. You may use this map in a number of ways:
Using the search functions on the left side of the map, you can search for a cemetery by name OR by municipality.
Click on a township or municipality on the map to find cemeteries by location.
Know your ancestors' ethnicity? Find possible cemeteries they could be buried in by looking at where immigrants and migrants of different ethnicities colonized the county.
Know what kind of farm your ancestors had? Find possible cemeteries they could be buried in by looking at where different agricultural outputs were concentrated in the county.