Welsh Congregational/ Methodist Church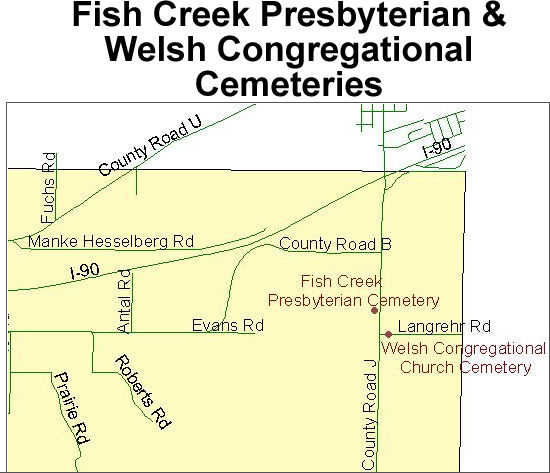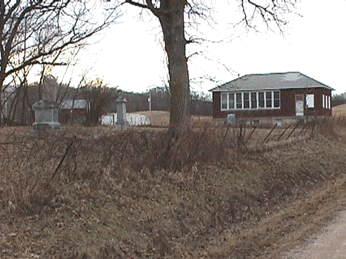 Unfortunately, we don't know much about this tiny cemetery affiliated with the Welsh Congregationalists / Methodists near the Fish Creek area. Many Welsh came to the Bangor area very early in the history of La Crosse County. Only nine stones still exist and the former church is now a residence. It is located in the far eastern part of the Town of Bangor, south of Rockland. Just north of this cemetery lie the remains of a foundation and cemetery associated with the Welsh Presbyterian Church of Fish Creek.
Dated May 9, 1860, a deed [La Crosse County Register of Deeds, volume 19 page 480-1] was executed for $1 between John E. & Margaret Jones and the Second Welsh Calvinistic Methodist Society, represented by Thomas Huges, David Morris, Richard G. Jones, David D. Jones (and others); as trustees, John Evans, John R. Jones, David J. Jones and John Jones.
The deed states "1 acre of land to be used a church site for the said society and a public burying ground.... The following land to be divided and appropriated as follows[:] 54 rods to be used for erecting church and other buildings for convenience ... the balance of the lot on piece of land to be used a public burying ground which is to be laid out into lots at a price sufficient to defray the expenses of fencing the lots...."
Two or three families seem to be buried here with the last names of Evans, Jenkins and Williams. Most of the members listed above in the deed transaction were buried in Fairview Cemetery in the Village of Bangor. In the obituary of Mrs. Margaret (John E.) Jones in the Bangor Independent of May 15, 1908, it proclaims, "She was a devout and faithful member of the Fish Creek, Welsh Congregational church until that disbanded a few years ago." Mrs. Jones was also buried at Fairview.
Search our online cemetery database
(insert Census List Details from historicevents database here)