Wavra Family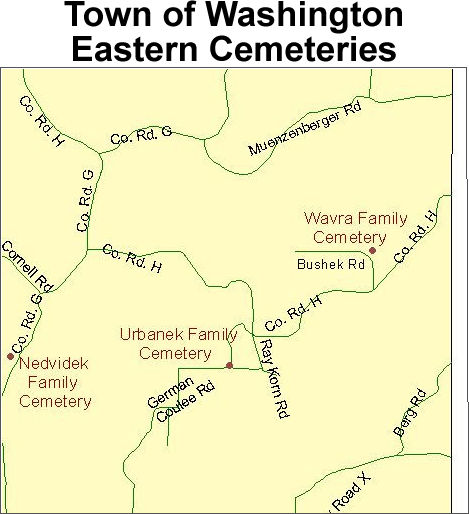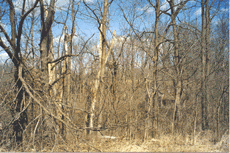 Wavra Cemetery, a small rural private family cemetery, has been almost forgotten by residents of the town of Washington in eastern La Crosse County, Wisconsin. This Bohemian family farmed this prosperous land from the late nineteenth century until the early 1950's.
The tiny area is not marked by a fence or any stones today, and is remembered only by a few older neighbors. It is flanked by four large dead trees, along the edge of a plowed field in amongst some woods. A long-ago abandoned farmhouse stands silently in the woods just east of the cemetery.
A warranty deed [La Crosse County Register of Deeds, volume 112 page 568-570] dated May 15, 1909, documents a very unusual and fascinating indenture between Rosie Wavra, a widow, and her son Joseph Wavra. In exchange for $1 and the farmland, the son Joseph "is to furnish, provide for and render to first party, his mother, on the above premises and care for the balance of the life of first party, good, comfortable and sufficient board, living, room, washing, lodging, nursing, medical care and attention and to give a good and decent christian burial and funeral at her death and proper burial; to keep her in his own house as one of his family; to treat her kindly, etc., furnish her necessary conveyance -- team, wagon, horse or buggy when she desires to move, visit or go to church."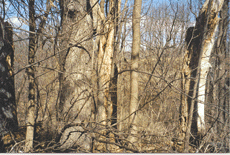 But the demands don't stop there! "In the case the first party desires to live in her own separate house on the premises, or with friends or other children, she may do so -- in which case second party shall then deliver to and furnish her annually 1000 pounds of flour 250 lbs. at a time; 15 bushels of potatoes; 200 lbs. of good pork to be given not more than 25 lbs. at a time; 4 gallons of good lard; 8 gallons of sauerkraut; 30 bushels of good oats; 25 bushels barley; 6 bushels of corn, 1 quart of good milk per day; 1 lb. good butter per week; 2 cows -- to be fed and kept in good condition by second party and the sum of $2.00 cash per week; all cordwood (hard) which first party may need and 1/4 of all fruit raised on said farm. The wood to be split and sawed."
Yet more stipulations were added to the deed! "Second party, in addition to the support, care and service to be furnished to the first party as provided for herein -- is to execute to first party a mortgage...for the sum of $2000 which indebtedness is to be separate from and in addition to the foregoing servce to be rendered to first party, his mother."
Lastly, Rosie reserved the house and surrounding garden and land for herself during her lifetime. After her death, the title to the house and its strip of land would be given to another son Peter Wavra. If Peter chose not to live in the house, then Joseph could buy it from Peter for $200 cash.
Another indenture dated Aug. 18, 1952, [volume 241 page 473] notes a change in ownership of the farm from Joseph and Anna Wavra to John G. and Tillie Beier "...excepting a piece of land two rods square now occupied as a cemetery...." Descendants in the La Crosse area remember an "Aunt Mary" being buried there and possibly some other children. Most of the Wavra family is buried in Fairview Cemetery in Bangor. In her later years, Rosie did live with her eldest son Joseph in the city of La Crosse until her death, while her son Peter did the farming.
Search our online cemetery database
Census List Details: