West Avenue & Main Street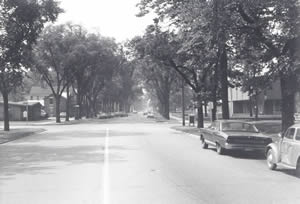 West Avenue and Main Street looking south, 1970

In this photograph, West Avenue North is a two-lane street with on-street parking on both sides, and the intersection has no traffic lights.  This intersection was identified as the number one priority in the TOPICS grant submittals. 
The YMCA/YWCA facility opened at this intersection in 1969, marking the first time both agencies shared a building.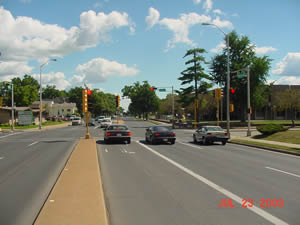 West Avenue and Main Street looking south, 2003

In this 2003 picture, West Avenue is a four-lane street with left-turn lanes for west and east access onto Main Street.  Medians divide traffic between State and Main Streets and Main and King Streets.  The dentist complex visible in the 1970 image remains on the southeast corner, although a large house or two have been removed for additional parking space south of this building. 
The YWCA moved out of the jointly owned and operated YM/YWCA building in 1992, with the YMCA (or, Family Y) continuing to operate in this facility.  The elm trees lining the streets succumbed to Dutch Elm Disease in the 1970s, as a result of being infected by a non-native fungus spread by bark beetles.