Jackson Street & West Avenue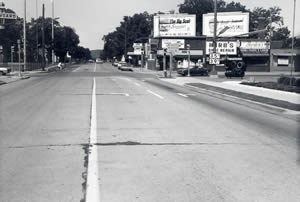 Jackson Street and West Avenue South West looking west, 1970

This photograph shows Jackson Street as a two-lane street with left turn lanes in 1970.  Lloyd's Standard Service Station was was located on the southeast corner of the intersection (on the left side of this view), while Powell Park is barely visible on the far left side (southwest corner).  The west or even numbered side of the 900 block of West Ave. South housed several small businesses, including Ruud's Variety Store, Herb's Shoe Repair and Swede and Ferol's Lunch.  On August 24, 1977, a fire began at Swede & Ferol's Lunch which destroyed three storefronts.  Located on the northeast corner (on the right side of this view) was Role's Mobil Service Station.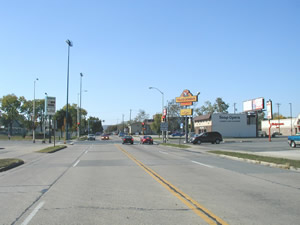 Jackson Street and West Avenue South West looking west, 2003

This 2003 photo of the intersection shows many distinct differences from its 1970 counterpart.  West Avenue South is now a four lane street with left turn lanes.  The northwest corner has a Walgreen's Pharmacy and a laundromat/apartment building, while the northeast corner has a Taco Johns and automobile service station.  The southeast and southwest corners both remain unchanged as an automobile service station and Powell Park respectively.