Losey Boulevard & Ward Avenue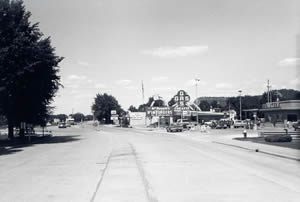 Losey Boulevard South and Ward Avenue looking north, 1970

This photograph shows the intersection of Losey Boulevard and Ward Avenue.  In 1970, Losey Boulevard was a four-lane street with a median.  On the east side of Losey Boulevard was a McDonald's Restaurant and the Frank-Len service station. 
In the 1970 La Crosse telephone book, there were over 100 listings for service stations in La Crosse.
Losey Boulevard South and Ward Avenue looking north, 2003

This intersection has gone through dramatic development changes since 1970.  The McDonald's Restaurant has moved to the west side of Losey Boulevard South.  The Trane Federal Credit Union building now stands in its place.  The gas station on the southeast corner (Frank-Len service station) had closed just before this photo was taken.  A month later, the building was torn down.  The Trane Company constructed a large plant on the northwest corner of this intersection, and Losey Boulevard remains a four-lane street.
In 2003, there were fewer than ten service stations listed in the La Crosse telephone book.