Fifth Avenue & Cass Street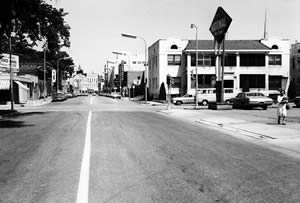 Fifth Avenue and Cass Street looking north, 1970

The intersection of Cass Street and Fifth Avenue was a vibrant intersection in 1970.  On the southeast corner was the National Food Store, a prominent grocery store at the time, while the northwest corner was the home of the La Crosse Tribune.  Fifth Street was a two-lane street, while Cass was a four-lane street.  The intersection also had functional traffic lights at all four stops.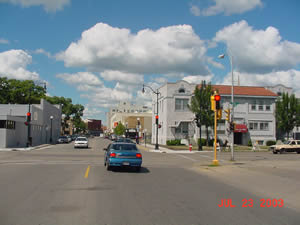 Fifth Avenue and Cass Street looking north, 2003

This 2003 image of the intersection shows little change from the past.  The apartment building on the northeast corner still stands, although the parking lot on the building's south side is now green space.  The southeast corner has a Kwik Trip gas station, and the northwest corner is now home to Sara Lee Bakery (formerly the Metz Bakery). 
The National Food Store closed in 1980 to move into a new, larger store in the Riverview Shopping Center on La Crosse's far south side.  Cass Street and Fifth Avenue both remain unchanged as four-lane and two-lane streets respectively.