Neshonoc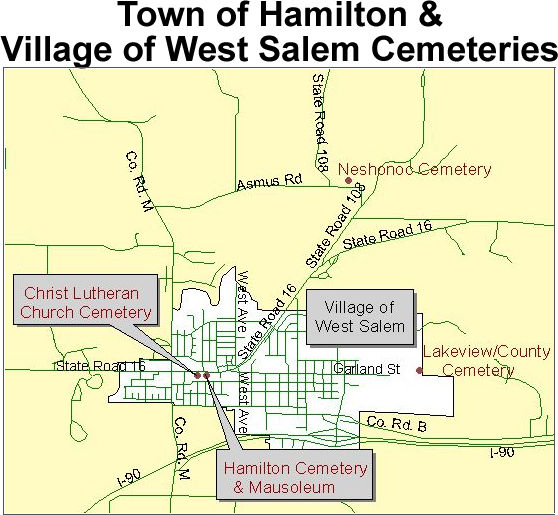 Originally located near the banks of the Neshonoc River, just one and a half miles north of West Salem in the town of Hamilton, the pioneer settlement of Neshonoc no longer exists. But in 1860, Neshonoc was a bustling place and far outshined rival West Salem as a community.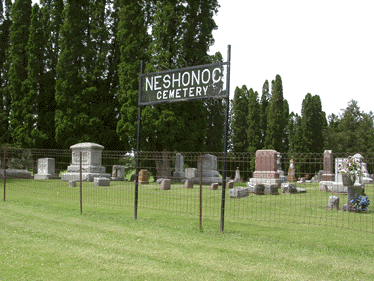 Neshonoc Cemetery began officially in 1859, only eight years after La Crosse became a county, and is a well cared for and active cemetery now owned by the Town of Hamilton. However, before the cemetery was deeded to the town, the site had been used as a family cemetery by the McEldowney family. Andrew and Mary McEldowney homesteaded the land in 1852 and were part of the Yankee migration that formed the beginning nucleus of La Crosse County.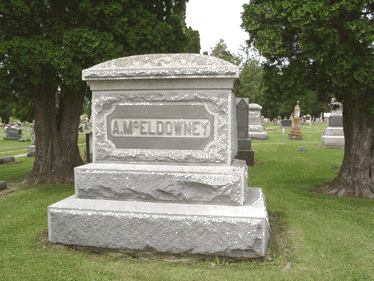 A deed [La Crosse County Register of Deeds, volume 19 page 81-2] dated Sept. 24, 1859, relates that Andrew and Mary McEldowney were granted land by the U. S. government through the Homestead Act. In June 1859, McEldowney sold part of this land to the town of Neshonoc "...not to exceed 10 acres exclusively for a town cemetery, for the consideration of $120." The transfer amounted to approximately three acres.
The Neshonoc Cemetery Association was organized on March 21, 1893, to sell lots and help support the cemetery financially. Lots in 1893 sold for $4.75. By 1931, the Association began requiring the purchase of perpetual care on each lot. In November 1931, land joining the cemetery to the west was added.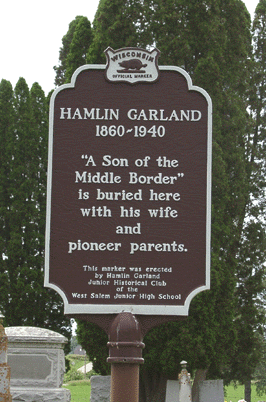 Many interesting old gravestones are situated among the cedar and arbor vitae trees, including that of midwest author Hamlin Garland, his wife and parents. A Pulitzer Prize winner, Garland wrote literature about midwest pioneering life, using his father, Richard, and his parents' friends as source material for his books.
In 1973 Garland's West Salem home at 357 W. Garland St. was designated as a national landmark. Garland is known as "West Salem's most famous son" and was born in 1860. He died in 1940 in California, and his ashes were interred in the family plot at Neshonoc Cemetery.
Hamlin Garland immortalized the Coulee Region in his books, Trailmakers of the Middle Border, A Son of the Middle Border, A Daughter of the Middle Border and the Backtrailers from the Middle Border. The National Landmark designation led to the formation of the West Salem Historical Society and a strong local interest in history.
Search our online cemetery database
Census List Details: